Roasted beetroot, garlic and feta dip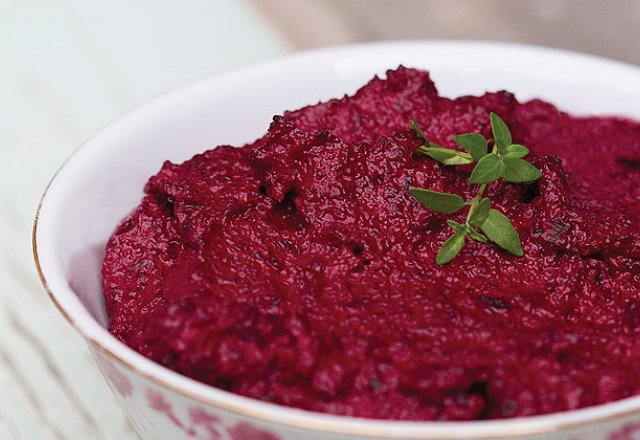 A healthy, homemade dip from Green Cooks.
Ingredients (makes ½ cup)
500g (1 small bunch) baby beetroot
1½ tbsp olive oil
Sea salt and freshly cracked 
black pepper
3 cloves garlic, unpeeled
A few sprigs fresh thyme
50g Greek feta
METHOD
Preheat oven to 200ºC.
Chop the tops and bottoms off the beetroot, peel and chop into two-cm chunks (wear disposable gloves to avoid stained hands). Place beetroot in a roasting dish, coat with oil and season sparingly with salt and pepper. Add garlic to the pan and scatter over thyme sprigs. Roast for 40 to 50 minutes or until beetroot is easily pierced with a fork.
Discard thyme sprigs (leave any leaves that have fallen off the sticks) and transfer the beetroot, plus any liquids left in the dish, to a food processor. Squeeze garlic from their skins into the processor and crumble in feta. Process until smooth, adding extra olive oil and seasonings as needed.
NEXT: Roasted carrot and labne dip>>
Recipe from Green Cooks' Ruth Freidlander; photo credit: Jessica Symonds
Rate This