Refreshing sardinia salad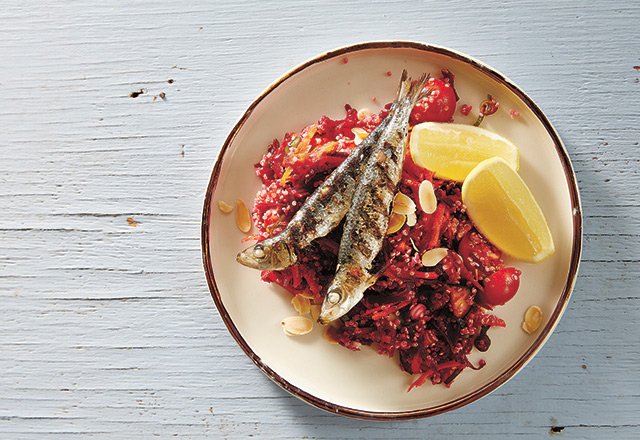 Get your omega-3 fix with Lola Berry's fresh sardinia salad this summer.
Check out her recipe below.
Sardines are probably my favourite fish, and not just because they contain bucket loads of super-healthy omega-3 fatty acids, which are brilliant both for the brain and for cardiovascular health. I love them fresh or tinned. This quinoa salad is pretty nutrient dense, and I like to use a combo of all three colours – red, white and black – for it, but it will work with just one if that's all you have on hand.
Ingredients (serves 4)
200 g (1 cup) quinoa, cooked and cooled
1 Lebanese cucumber, diced
1 punnet (250 g) cherry tomatoes, halved
2 spring onions, trimmed and finely chopped
1 carrot, peeled and grated
1 raw beetroot, peeled and grated
25 g (¼ cup) flaked almonds, toasted, plus extra to serve
Salt flakes and freshly ground black pepper
8 whole sardines, scaled and gutted
Extra-virgin coconut oil, for brushing
Handful of roughly chopped flat-leaf parsley leaves (optional)
Lemon wedges, to serve
Dressing
60 ml (¼ cup) extra-virgin olive oil
Zest and juice of 1 lemon
1 tbsp maple syrup
1 garlic clove, crushed
Method
Place the quinoa, cucumber, tomatoes, spring onion, carrot, beetroot and almonds in a large bowl and toss to combine.

To make the dressing, in a separate small bowl whisk together the olive oil, lemon zest and juice, maple syrup and garlic. Pour the dressing over the salad, season with salt and pepper and mix well. Set aside until ready to serve.

Wash the sardines and pat dry. Brush with coconut oil and season all over with salt and pepper. Heat a griddle pan, frying pan or barbecue grill and cook the sardines over a very high heat for 3–4 minutes, turning once halfway through. The sardines should be cooked through and slightly charred.

Divide the salad among four plates and top each with two sardines. Sprinkle with parsley (if using) and extra flaked almonds, and serve with lemon wedges. Job done, and I think this one looks pretty impressive, too.
This recipe was taken from Lola Berry's Summer Food, published by Plum, RRP $24.99.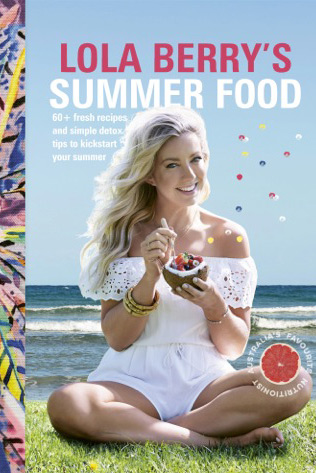 Rate This