Raw falafel salad 
with cashew aioli (vegan)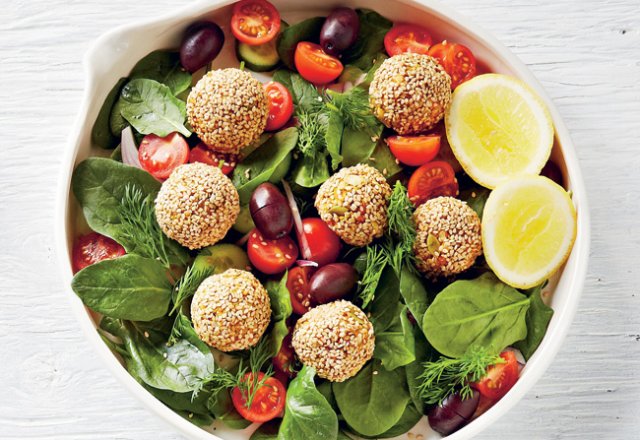 Healthy recipes from Lola Berry
Looking for healthy lunch ideas? Try this raw falafel salad with homemade cashew aioli.
Ingredients (serves 2)
For the falafels
300 g chopped carrots
130 g pepitas (pumpkin seeds)
40 g chia seeds, ground (or chia meal)
1 garlic clove, finely chopped
2 tbsp finely chopped onion
½ tsp ground cumin
Salt flakes
Freshly ground black pepper
80 g toasted sesame seeds
For the salad
2 handfuls baby spinach, washed
½ red onion, finely sliced
125 g cherry tomatoes, halved
1 cucumber, sliced into discs
6 kalamata olives, pitted
½ bunch dill, finely chopped
Squeeze of lemon
Extra virgin olive oil, to dress
Cashew aioli
40 g cashews, soaked and rinsed
2 garlic cloves
Pinch of salt flakes
Juice of 1 lemon
60 ml extra-virgin olive oil
To serve
Fresh lemon wedges
1 tbsp toasted (or raw) sesame seeds
Method
Put chopped carrots into a food processer and whizz them up, then add pepitas, chia seeds, garlic, onion, cumin, salt and pepper, and process to a fine crumb. Spoon the mix into a large bowl and roll one tablespoon at a time. I love to roll them in sesame seeds.
If you want these to stay totally raw, then use a food dehydrator and dehydrate for four hours – you can keep them in for up to 10 hours if you like the outside really crispy (that's how I like them). Or you can bake them in the oven. I pop them on a tray lined with baking paper, drizzle with about 60 ml coconut oil and pop them in the oven at 180°C. You can bake them for 20-to-30 minutes, depending on how crispy you like them.
For the salad, wash the baby spinach then spin it dry in a salad spinner – yes, this bit is nerdy but it does make a big difference. Put the leaves into a nice salad bowl, add the onion, cherry tomatoes, cucumber, olives and dill, season, give it the tiniest dressing with a squeeze of lemon and drizzle of extra-virgin olive oil, toss, then set aside.
For the cashew aioli, put cashews, garlic, salt, lemon juice and olive oil into a food processor and give it a whizz. This will be reasonably thick – if you want it thinner, add a little more oil.
Plate up your salad, top with about four to six falafel balls then plenty of aioli dressing, a few wedges of lemon and sprinkle with toasted sesame seeds (don't toast the sesame seeds if you want to keep it totally raw).
Recipe from The Happy Cookbook, by Lola Berry.
Rate This