Berry salad with garden greens & lemon-basil vinaigrette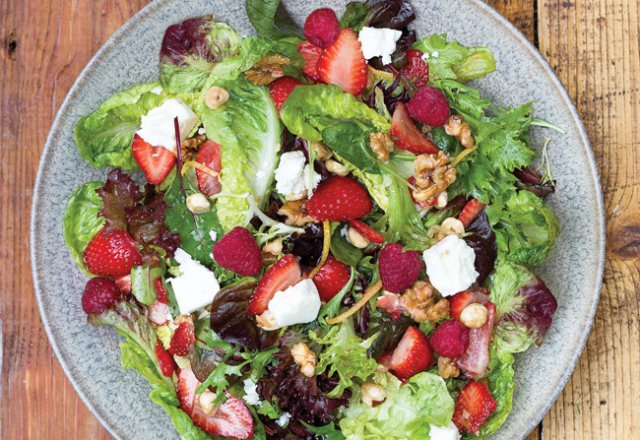 This summer salad is packed full of hydrating nutrients.
INGREDIENTS (serves 2-3)
3 handfuls of mixed garden greens 
(baby spinach, rocket, lettuce)
Large handful (200g) strawberries, 
finely sliced
Handful of raspberries
Handful of crushed nuts (almonds, hazelnuts or walnuts)
75g goat's cheese, roughly crumbled
METHOD
Rinse garden greens and slice strawberries. Add greens to a salad spinner and spin to remove excess water; this also allows the dressing to stick better to the leaves.
Add remaining ingredients and add salad dressing to taste. Lightly toss to combine and serve immediately while berries are still plump and greens crunchy.
Lemon-Basil Vinaigrette
INGREDIENTS
¼ cup good quality cold-pressed olive 
or avocado oil
2 tbsp balsamic vinegar
2 tbsp maple syrup
Handful of basil leaves, roughly torn
Pinch of salt and pepper
Rind of ½ small lemon
2 tbsp lemon juice
METHOD
Make dressing at least one hour before to allow flavours to infuse. Add all ingredients to a screw top jar and shake to combine.
NEXT: 5 healthy summer salads>>
Recipe from Green Cooks; Photo credit: Jessica Symonds
Rate This