Watercress, almond and walnut salad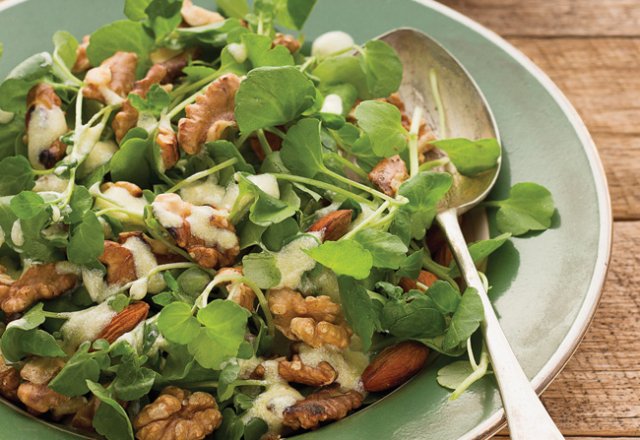 Looking for winter salad ideas? We love this watercress, almond and walnut side salad.
Ingredients (serves 4)
2 large handfuls of watercress or salad greens
Large handful of almonds, roughly chopped and toasted
Large handful of walnuts, roughly chopped and toasted
Dressing
¼ cup olive oil
Juice of 1–2 lemons
Salt and pepper, to taste
50g blue cheese, lightly crumbled
METHOD
Whisk olive oil and lemon juice until combined. Add salt and pepper to taste. Add crumbled blue cheese and whisk until desired consistency reached.
In a large bowl, add watercress, almonds and walnuts, drizzle dressing on top. Serve as a simple side salad.
NEXT: Berry salad with garden greens>>
Recipe by Rosie Percival; Photography by Jessica Bicknell
Rate This