Red capsicum, tomato 
& goat's cheese gratin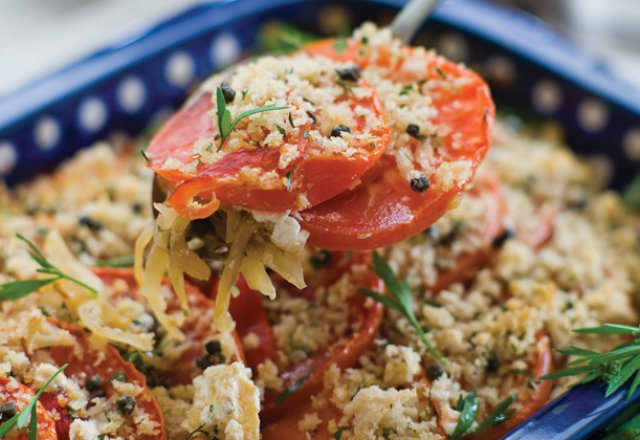 Tasty vegetarian recipes
Gourmet chef and food-writer Belinda Jeffery serves up this easy, meat-free gratin along with chunks of good bread (vital for sopping up the lovely oily juices) and a handful of salad greens tossed in vinaigrette.
Ingredients (6 serves/4 as a main course)
4 large red capsicums (peppers)
⅓ cup (80ml) extra virgin olive oil
2 large brown onions, halved and 
thinly sliced
2 cloves garlic, halved and sliced 
paper-thin
700 gm medium-size ripe tomatoes
2 tbsp capers (the tiny salt-packed ones look best)
2 tbsp thyme leaves
2 heaped tbsp finely chopped flat-leaf parsley
Sea salt and freshly ground black pepper, to taste
200 gm goat's cheese marinated in olive oil and herbs
70 gm coarse-ish fresh breadcrumbs, made from a good country-style or sourdough loaf
Thyme or parsley sprigs, optional
Method
Slice the capsicums into large pieces along their natural contour lines and remove the seeds and white ribs. Put them, shiny-side up, on a grill tray and run them under a hot grill until the skins blister and blacken. Remove and cover them with a clean tea towel to sweat and loosen the skins. Peel them as soon as they're cool enough to handle, then slice them into 1.5 cm wide strips. Set them aside.
Meanwhile, heat half the oil in a medium-sized frying pan over low heat. When it's warm, add the onions and garlic and cook them so they sizzle softly, stirring them regularly until they're a pale golden brown – this takes about 20 to 25 minutes. When they're ready, turn off the heat and set them aside.
Cut the tomatoes into thick slices (about 8 mm) and put them aside, too.
Preheat your oven to 180C. Lightly oil a medium-sized gratin dish – the one I use is roughly 30 x 16 cm, and is 4.5 cm deep.
To put the gratin together, mix half the capsicum strips, most of the capers and one tablespoon each of the thyme and parsley into the onion mixture. Season with salt and pepper. Spread this mixture over the base of the gratin dish, then crumble the goat's cheese evenly on top. Overlap the tomato slices attractively on the cheese, slipping a strip of the remaining capsicum between each slice (if the capsicum strips are a bit big, cut them in half.)
Now, thoroughly mix the breadcrumbs with the remaining herbs and capers and one tablespoon of the remaining olive oil. Scatter this mixture evenly over the tomato slices then dribble what's left of the oil on top.
Bake the gratin for 35 minutes, or until the top is golden brown and you can hear it gently bubbling. Remove and leave to cool a little before serving. (I know it's tempting to eat it straight away, however, it tastes best when it's warm rather than hot.) If the rim of the gratin dish looks a bit splattered, just wipe it with damp paper towel to clean it up. Scatter with a few herb sprigs, if liked.
Rate This