Buckwheat pizza with olive tapenade and zucchini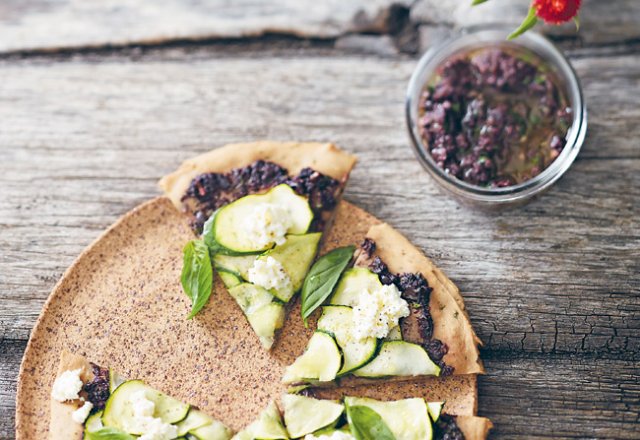 Pizza with a fresh twist
Looking for homemade pizza ideas? We love this buckwheat pizza with olive tapenade and zucchini.
Ingredients (serves 4)

Zucchini
1 large zucchini, thinly sliced
Extra virgin olive oil, for drizzling
Large handful basil leaves
Ground black pepper (optional)
Tapenade
110 g pitted kalamata olives
1 clove garlic, chopped
1 tbs salted capers, rinsed and drained
2 tbs apple cider vinegar
80 ml extra virgin olive oil
1 tsp thyme leaves
2 tbs chopped flat-leaf parsley
Buckwheat pizza base
320 g buckwheat flour
30 g arrowroot
2 teaspoons sea salt
½ tsp bicarbonate of soda
Handful flat-leaf parsley, chopped
60 ml macadamia oil
1 tbs apple cider vinegar
Method

To make the tapenade, place all the ingredients in a small food processor Process until well combined and olives are finely chopped. Set aside.

Preheat oven to 190˚C (170˚C fan-forced).

Line two large trays with baking paper.

To make the buckwheat pizza bases, process all the ingredients in a food processor until combined. (The mixture will look more like a cake batter than a dough.) Divide evenly into four on baking tray.
Using the back of a spoon, spread each into a round. Bake for 15–20 minutes or until light golden and remove from the oven.
Spread tapenade evenly over the pizza bases. Arrange zucchini slices,, slightly overlapping, on each base and drizzle with olive oil.
Bake for 10 minutes more, until zucchini is cooked and bases are golden.

Scatter with the basil leaves and sprinkle with pepper and enjoy.

Recipe and images from Belle Gibson
You might like Polish pancakes with berries and cream or Becoming vegan
Rate This