Braised and stuffed quinoa capsicum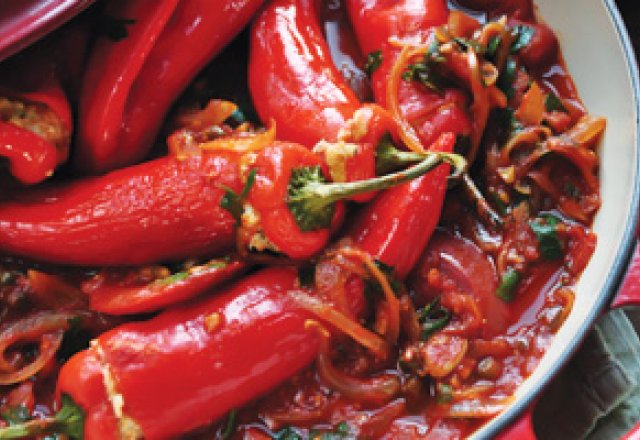 Learn how to become a 5-star chef!
For this dish use small, thin fleshed capsicms or ideally, long peppers
Ingedients (Peppers)
8 small capsicums or long peppers
1⅔ cups water
1 cup quinoa
1 medium onion, chopped finely
2 gloves garlic, chopped finely
2 – 3 tablespoons chopped parsley
4 large eggs
300 grams creamy ricotta (or cottage cheese)
2 – 3 tablespoons of quinoa flour, (or wholemeal, rice or buckwheat flour)
1 teaspoon smoked paprika (optional)
Salt and pepper
Sauce
2 small capsicums, halfed cored and cut into 2 – 3mm strips
4 ripe tomatoes, cored and 
thinly sliced
1 onion thinly sliced
Few sprigs of thyme (or rosemary or oregano)
1 teaspoon smoked paprika
1 tablespoon salted capers (if available)
2 cups of vegetable stock
1 tablespoon of butter
2 – 3 tablespoon chopped parsley for garnish
Salt and pepper

Method
Place the quinoa, onion and garlic with the water into a stockpot, cover with a lid and place onto a high heat. When the quinoa reaches a boil, reduce the heat to a minimum and cook until all the water is absorbed by the seeds. This takes approximately 15 minutes.
Remove the lid, add the parsley, ricotta and eggs and work to a creamy dough, before adding the flour, paprika salt and pepper.
Heat your oven to 200 degrees celcius.
Cut the lid off eight capsicums and set them aside for the garnish.
Carefully remove the core, white pith and seeds from inside each capsicum without tearing its flesh. Stuff the quinoa mix into the capsicums making sure there are no air pockets.
Place the lid back onto each capsicum and spike three toothpicks halfway into it (this will keep the lids on the capsicums).

Sauce
Place the butter into a roasting tray and place it onto a medium heat.
Add the capsicums strips, onion slices and garlic and cook for 3 – 5 minutes.When the vegetables start to develop a golden colour add the tomatoes, thyme stalks, smoked paprika, capers and stock.
Place the stuffed capsicums into the tray and cover with a lid.
Transfer to the oven and cook for 25 – 35 minutes (depending on the size of the capsicums).
Check the core temperature of the capsicums by spiking with a needle or knife tip and if boiling hot the quinoa is cooked through. When ready, remove the tray from the oven, remove the lid and place it onto a high heat gas flame.
Place the stuffed capsicums onto a serving platter and keep them warm in the switched off oven.
Reduce the sauce to a thick consistency, then pour the sauce over the capsicums. Garnish with the remaining parsley.

-Walter and Dorota Trupp of Trupp Cooking School.
Browse more healthy recipes or join the chatter on Facebook!
Rate This