Caramelised leek and fennel potato gratin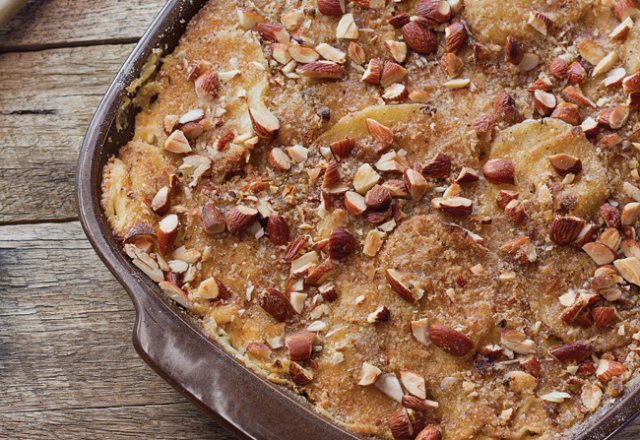 Winter recipes from Green Cooks
Looking for delicious winter recipes? Try this caramelised leek and fennel potato gratin with goat's cheese and thyme.
This can be made ahead of time and reheated when ready. The vegetables will shrink down as they roast, so don't be tempted to reduce the amount.
For a gluten-free alternative, make your own home-made gluten-free breadcrumbs or substitute with polenta.
Ingredients (serves 4, makes 20 x 30cm dish)
1 large leek, finely sliced and washed
1 medium fennel, stalks cut off, core removed and thinly sliced.
2 medium potatoes (450g), finely sliced
2–4 cloves of garlic, minced
3 tbsp vegetable oil
1 tsp salt
200ml cream
⅔ cup lite sour cream
2 bay leaves
1 tsp wholegrain mustard
1 heaped tbsp fresh thyme leaves
½ cup goat's cheese
½ cup wholemeal breadcrumbs
½ cup raw almonds, roughly chopped
METHOD
Preheat oven to 180°C.
In a large oven dish, add sliced leeks, fennel, potatoes and minced garlic. Add oil and salt and toss to evenly coat. Bake for 20 to 30 minutes until caramelised, tossing occasionally to ensure an even roast.
When leeks and fennel are almost cooked, prepare sauce. In a small pot add cream, sour cream, bay leaves, mustard, thyme and goat's cheese, bring to the boil, whisk occasionally. Reduce heat and simmer for five to seven minutes until flavours infuse.
In a casserole dish, add cooked vegetables, pour cream mixture on top and mix to combine ingredients. Using the back of a wooden spoon, press mixture down to even out. Sprinkle breadcrumbs and almonds on top and pat down.
Bake for 35 to 45 minutes until golden on top. Remove from oven and allow to cool for several minutes before serving as this will allow the sauce to thicken up.
NEXT: Thai pork and sweet potato soup>>
Recipe by Rosie Percival; photo credit: Jessica Bicknell
Rate This