Raw vanilla and passionfruit tart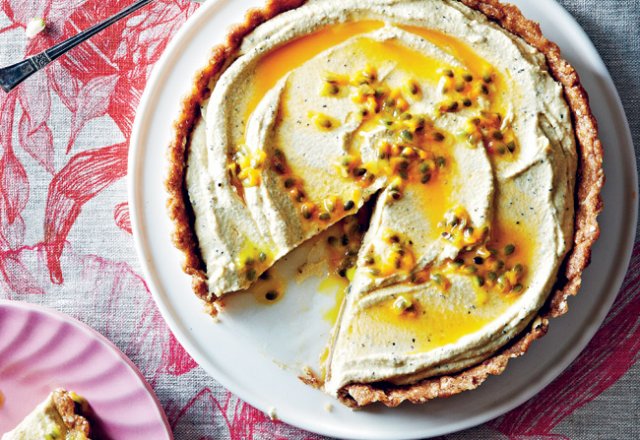 Nourish your sweet tooth
Lola Berry doesn't believe in expensive and complicated health food ingredients and this wholesome real-food tart is no exception. Head down to the local supermarket and grab the ingredients for this raw treat!
Ingredients (serves 12)

Tart shell
310 g almonds, soaked and rinsed
6 medjool dates, pitted
2 tbsp almond butter
Pinch ground cinnamon
60 ml almond milk
Filling
235 g cashews, soaked and rinsed
2 passionfruit
125 ml almond milk
125 ml maple syrup (or coconut nectar)
1 vanilla pod, split and scraped

Topping

Method
For the tart shell, place the almonds, dates, almond butter, cinnamon and almond milk in a food processor and blitz to a chunky paste, then press it with your fingers (damp hands can help) into the base and sides of a loose-bottomed tart tin. Put it in the freezer for about an hour. (You can make the tart shell up to a week in advance.)

For the filling, put the cashews, passionfruit pulp, almond milk, maple syrup and vanilla seeds in a food processor or high-speed blender, and blend until thick and creamy. Put filling into the tart shell and finish by topping with more passionfruit – I love it to look messy.

Pop the tart into the fridge until you're ready to gobble it up!
Recipe from The Happy Cookbook by Lola Berry
Rate This