Lola Berry's pumpkin & almond tartlets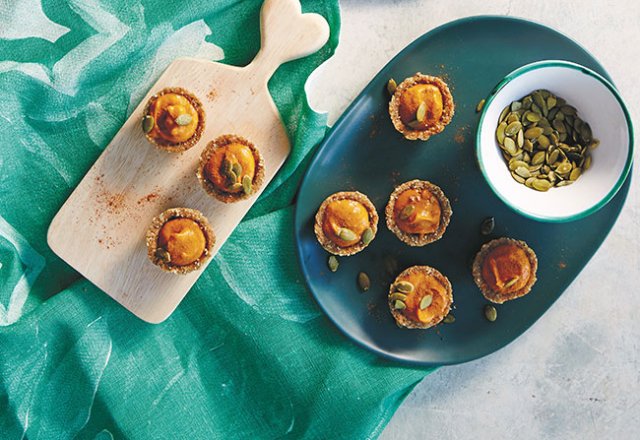 The perfect treat to sink your teeth in.
Lola Berry is all for wholesome, nutritious eats and these delectable tartlets are nothing short of that.
Ingredients (Makes 9 regular or 18 mini tartlets)
For the filling
1 ½ cups diced pumpkin
2 tbsps extra-virgin olive oil
2 tbsps almond milk, plus extra if needed
3 tbsps coconut oil, melted
3 tbsps maple syrup
1 tsp ground cinnamon
½ tsp ground nutmeg
¼ tsp ground ginger
pinch of salt flakes
tiny pinch of ground cloves
For the crust
1 cup almonds, activated if possible (see note)
3 tbsps pumpkin seeds
3 tbsps desiccated coconut
2 tbsps coconut oil, melted
3 pitted medjool dates
pinch of salt flakes
To serve
3 tbsps pumpkin seeds
sprinkle of ground cinnamon
sprinkle of ground nutmeg
Method
Preheat the oven to 180°C. Line a baking tray with baking paper and a regular muffin tray with 9 patty cases or a mini muffin tray with 18 mini patty cases. Alternatively, lightly spray the muffin tray with cooking spray and line with plastic wrap.
To make the filling, spread the pumpkin over the prepared tray, then drizzle over the olive oil, tossing the cubes to coat well. Bake for 25 minutes, or until the pumpkin is soft and beginning to brown. Remove from the oven and set aside to cool.
While the pumpkin is cooling, make the crust. Pop all the ingredients into the food processor and whizz together until thick and biscuity. Divide the mixture evenly among the patty cases and use wet hands to press the mixture into the base and sides. Chill in the freezer for 10 minutes to set.
To finish the filling, put the pumpkin and remaining ingredients in the food processor or blender and whizz together until nice and creamy, adding a little extra almond milk if you need to thin it out a bit.
Grab the crust bases from the freezer. Pour in the creamy pumpkin filling, then pop in the fridge for 3–4 hours to chill and firm up. When set, top the tarts with the pumpkin seeds, cinnamon and nutmeg. Enjoy!
NOTE: To activate nuts, soak them in water for 2–3 hours (or overnight, if possible) then rinse. This removes the enzyme inhibitors and makes them easier to digest.
Rate This