Raw chocolate almond tart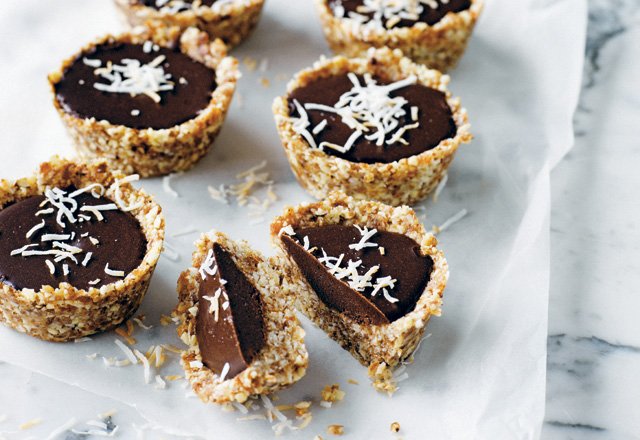 Made with raw cacao powder
Looking for a decadent dessert? We love these raw chocolate almond tarts.
Ingredients (makes 6 mini or 1 large)
Nut Crust
1 cup almonds
½ cup shredded coconut
⅓ cup melted coconut oil
1 cup fresh dates, pitted
Pinch Himalayan salt
Chocolate Filling
¼ cup virgin organic coconut oil
1 tsp ground cinnamon
⅓ cup rice malt syrup
½ cup cacao powder
1 tbsp tahini
2 tbsp shredded coconut, toasted (to serve)
Method
To make the nut crust, soak the almonds for 4 to 6 hours beforehand (optional). Process all the ingredients in a high-speed blender or food processor until well mixed.
Spoon the crust mixture into a paper case-lined 6-hole muffin tray or 20 cm lightly greased fluted tart tin with removable base. Press down firmly using the back of a spoon and place in the freezer.
To make the chocolate filling, melt the coconut oil over a low heat and then turn off the heat. Add the remaining ingredients and whisk until smooth.
Remove the tart crust/s from the freezer and spoon in the filling. Refrigerate for at least 1 hour.
When ready to serve, remove from the fridge and sprinkle the top with coconut. You can add toppings such as goji berries, walnuts or fresh berries.
Rate This