Raw lemon and lime curd tartlets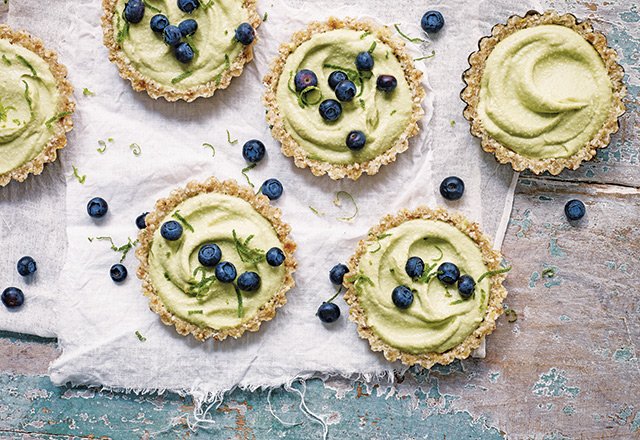 A tasty treat for the whole family.
Devour these wholesome treats from Good Better Green by ZITA STEYN, a holistic chef and graduate of the Natural Gourmet Institute in New York.
If you've never sprouted anything before, buckwheat crisps are the perfect introduction to the world of these enzyme-rich and nutrient-dense foods. Raw buckwheat is available from most health food stores, sprouts easily and the crisps are a slightly nuttier version of rice crispies, which can be sprinkled on porridge or mixed into granola recipes.
Ingredients (Makes 6 tartlets)
For the crust
80 g sprouted, dried buckwheat*
1 ½ tbsp melted coconut oil
125 g shelled, unroasted cashew nuts, soaked for a few hours and drained
Grated zest of 1 lemon, plus extra to serve
55 g desiccated coconut
Pinch of sea salt
5 large soft medjool dates, pitted and chopped
For the filling
120 g shelled, unroasted macadamia or pecan nuts, soaked for a few hours then drained
180 ml mixture of lemon and lime juice (about 2 large lemons and 3 limes)
2 large avocados (260–280g each), peeled and pitted
60 ml honey
Pinch of sea salt
1 tsp good-quality lemon extract or a few drops of lemon oil
2 tbsp liquid coconut oil
Method
Blitz all the ingredients for the crust in a food processor until the mixture resembles coarse, wet sand. Scrape out and press into 6 mini tart tins,10 cm diameter. Refrigerate while you make the filling.
In a powerful blender, blend all the ingredients for the filling until very smooth. If using a regular blender, the result will not be quite as smooth, so you may want to strain the mixture through a sieve. Taste, and if it is too tart, add another tablespoon or two of honey, bearing in mind that the crust is sweet and offsets the filling beautifully.
Spoon the filling into the tart cases and refrigerate for at least 4 hours. Carefully unmould each tart and serve with fresh blueberries and some fresh lime or lemon zest. They keep well in their tins in the fridge for a day or two.
*To sprout raw, unroasted buckwheat (not kasha), soak 2 cups of buckwheat groats in three times their volume of fresh water for 12–18 hours, changing the water (it will go slimy) once during this time. Then drain, rinse off any sliminess, and leave for a day or two in a sprouting jar, mesh bag or sieve, loosely covered with a piece of kitchen paper or cloth, rinsing well and giving a stir twice a day. Once most of the grains have started sprouting (you will see a tiny little tail forming), spread them all out on a tray or baking sheet and dry in a dehydrator or at a very low temperature (about 65°C) in the oven until crisp, usually for 12–24 hours. The low temperature is essential to preserve the enzymes in the sprouts, but if you are pressed for time, you could increase the temperature and reduce the baking time.
This is an edited extract from Good Better Green by Zita Steyn, published by Quadrille $29.99, available in stores nationally.
Looking for more raw creations? These raw chewy pecan brownies are a must!
Rate This