Green Bowl with saffron aioli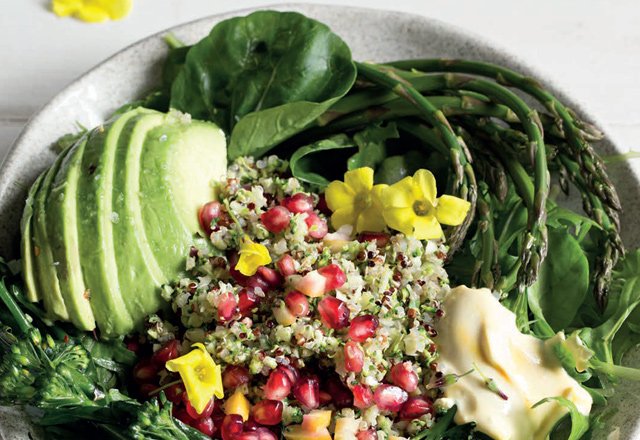 A delicious bowl of green goodness
This delicious vegan green bowl with creamy saffron aoili makes the perfect healthy meal.
Serves 4
FOR THE GREEN BOWL
2 handfuls sprouting broccoli or broccolini
2 handfuls asparagus, stems removed
4 handfuls mesclun
2 avocados, sliced
FOR THE SAFFRON AIOLI
1 cup cashews (soaked 2−4 hours)
3 tbsp lemon juice
1 tbsp apple cider vinegar
½ tsp sea salt
2 garlic cloves, crushed
½ shallot
½ cup filtered water (add as needed)
5 tbsp cold-pressed olive oil
8 saffron threads
1⁄8 preserved lemon
FOR THE PRESERVED LEMON DRESSING
2 preserved lemons, de-seeded
½ cup filtered water
¾ cup lemon juice
1 large shallot
1 tsp fresh oregano
1 cup cold-pressed olive oil
FOR THE QUINOA BROCCOLI TABBOULEH
1 cup dry quinoa, cooked and cooled down to room temperature
1 head broccoli, chopped
2 handfuls parsley, finely chopped
2 tbsp preserved lemon dressing
sea salt and pepper to taste
2 tbsp cold-pressed olive oil
TO SERVE
seeds of 1 pomegranate
1⁄3 preserved lemon, diced
Cook quinoa and set aside to cool.
Drizzle the sprouting broccoli and asparagus with olive oil and sea salt, and dehydrate for approximately 1 hour at 46°C (alternatively you could blanch the broccoli and asparagus by placing it in a bowl and pouring hot water over it − then leaving it for 2 minutes to lightly cook).
TO MAKE THE SAFFRON AIOLI
Drain the soaked cashews and rinse thoroughly. Place all ingredients except the olive oil, saffron and preserved lemon in a high-power blender and blend until creamy and smooth. With the blender running slowly, pour in the olive oil. Add the saffron threads and the preserved lemon and blend until thoroughly incorporated.
TO MAKE THE PRESERVED LEMON DRESSING
Combine everything except oil in a blender on high for 30 seconds or until mixed well. Turn speed down to medium and drizzle in oil until fully emulsified.
TO MAKE THE QUINOA BROCCOLI TABBOULEH
In a bowl, combine quinoa, chopped broccoli, chopped parsley and mix well.
Add 2 tbsp of preserved lemon dressing, salt and pepper to taste and olive oil. Set aside.
Place mesclun in a bowl and drizzle with some extra preserved lemon dressing.
Scoop the tabbouleh in the centre. Place sprouted broccoli, asparagus, sliced avocado, and a good dollop of the saffron aioli around it. Sprinkle tabbouleh with pomegranate seeds and diced preserved lemon.
Rate This