Rachael Finch's raspberry pancakes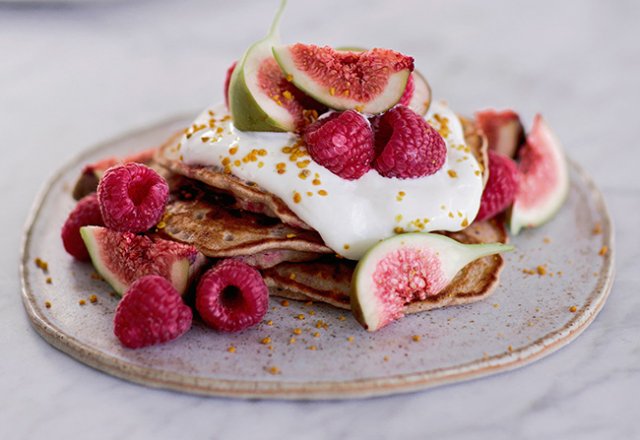 A delightful way to start your day.
Kick-start your day with this wholesome pancake recipe by our April-May 2017 cover model Rachael Finch.
Ingredients (serve 1)
¼ cup ground almonds
¼ cup buckwheat flour
pinch baking powder
1 tbsp raspberries plus extra, to serve
1 egg, or 1 chia 'egg' (see note)
¼ cup plant-based milk (soy, almond, coconut, rice or hemp) coconut oil or extra-virgin olive oil for frying
yoghurt, to serve
honey, to serve
1 fresh fig, quartered, to serve, optional
sprinkle bee pollen, to serve, optional
Method
Put the ground almonds, flour, baking powder and raspberries in a bowl and combine. Make a well in the centre and add the egg (or chia 'egg'), and plant-based milk. Mix well until a batter is formed. If the mixture seems a little thick, add some more milk to loosen it.
Heat some coconut oil or olive oil in a medium frying pan over medium heat. Pour the pancake mixture into the frying pan as one large or two smaller pancakes. Cook until golden brown, and flip when bubbles appear on the top of the pancake. Turn and cook other side until golden brown.
Serve with the extra raspberries, yoghurt, a drizzle of honey and figs and pollen (if using).
Note: To make a chia 'egg', mix together 1 tbsp chia seeds and 3 tbsp warm water. Allow to sit for 5 minutes until a gel forms.
This recipe is an extract from Rachael Finch's Happy, Healthy, Strong ($35, Harper Collins) is out now.
Find more delicious recipes here.
Rate This