Acai bowl with berries, banana, granola and raw honey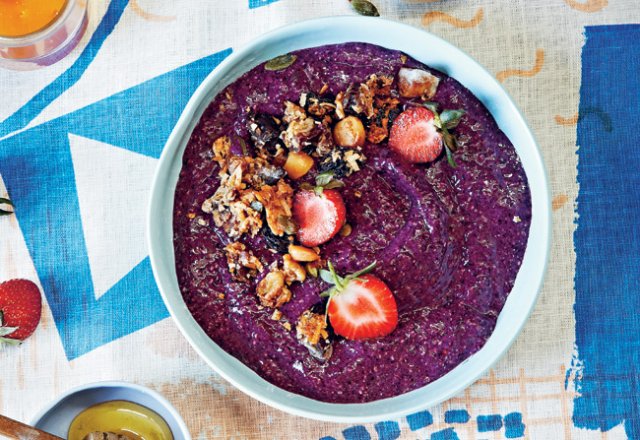 A quick and easy recipe from Lola Berry
Looking for healthy breakfast ideas? Lola Berry kick-starts her day with a bowl of fresh fruit, granola and honey.
Ingredients (serves 2)
155 g frozen blueberries
1 frozen banana (peel before freezing)
1 tbsp unsweetened acai powder
250 ml almond milk
40 g chia seeds
Fresh strawberries
Sprinkle of granola, to serve
Raw honey (or maple syrup), to serve
Method
Pop the berries, banana, acai powder, almond milk and chia seeds into the blender and whizz everything up. You might need to give it a few pulses to get the right consistency.
Pour into little bowls and top with fresh strawbs, granola (store bought or home made) and drizzle with honey. Hello, Hawaii magic.
Recipe from The Happy Cookbook by Lola Berry
NEXT: Breakfast boosters
Rate This