Pumpkin hummus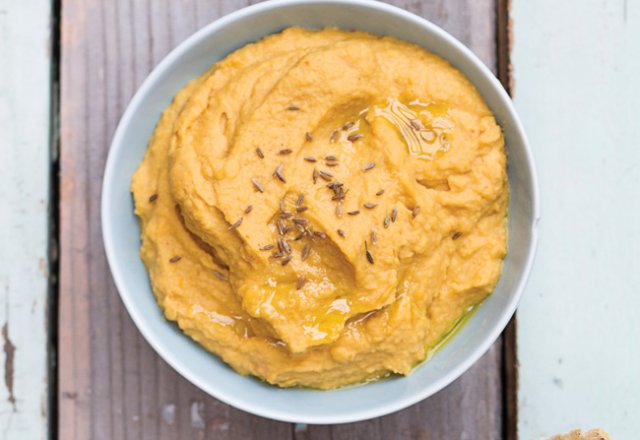 A tasty Autumn recipe from Green Cooks
Looking for healthy snack ideas? We love this homemade pumpkin hummus.
Ingredients (makes 1 cup)
2 tsp cumin seeds
400g pumpkin, peeled and chopped
1½ tbsp olive oil
½ tsp sea salt flakes
1x 400g can chickpeas, drained
1 tbsp tahini
2 tbsp lemon juice
⅓ cup olive oil
METHOD
Preheat oven to 200ºC.
Toast cumin seeds in a pan until fragrant and roughly grind in a mortar and pestle or spice grinder.
Place pumpkin in a roasting dish and coat with oil, cumin and salt flakes. Roast for 40 to 50 minutes, or until pumpkin is soft.
Place chickpeas, tahini, lemon juice, oil and roast pumpkin (plus any oil or liquid from the dish) into a processor and blend until smooth. Taste and add extra lemon juice, olive oil and salt until desired consistency and flavour is reached.
Recipe from Green Cooks' Ruth Freidlander; photo credit: Jessica Symonds
Rate This