Spiced pumpkin and chickpea couscous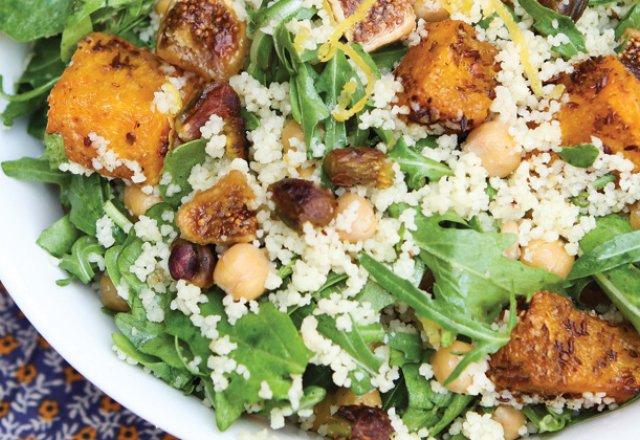 A delicious vegan dish
Chickpeas are a significant source of calcium and some sources quote it as being equal in calcium content to yoghurt and milk.
Ingredients (4 serves as a main, 6 – 8 serves as part of a shared meal)
1 cup couscous
500 gm wedge of pumpkin, diced into 2cm chunks
2 tbsp olive oil
1 tsp salt flakes
3 tsp ground cumin
2 tsp ground coriander
1 400 gm can chickpeas, drained
1 large handful rocket
½ cup chopped, dried figs
½ cup pistachios, toasted
½ cup chopped flat leaf parsley
Salt flakes and freshly ground black pepper to taste
Dressing
3 tbsp good quality extra virgin 
olive oil
2 tbsp lemon juice
1 tbsp lemon zest
1 tbsp pure maple syrup
Method
Preheat oven to 200°C.
Place chopped pumpkin in an oven dish and pour over olive oil. Sprinkle over salt flakes, ground cumin and ground coriander and mix to coat each piece. Roast for 25 to 35 minutes, shaking the pan once or twice during cooking to prevent sticking, until pumpkin is cooked through. Avoid overcooking the pumpkin, as it will disintegrate when mixed through the salad if too mushy. Once cooked, set aside to cool.
Place couscous in a large heatproof bowl and pour over one cup of boiling water. Stir in a pinch of salt, cover with a lid or large plate and stand for 2 to 3 minutes. Add a drizzle of olive oil and fluff with a fork to get rid of any lumps that may have formed.
Add cooled pumpkin, chickpeas, rocket, figs, pistachios and parsley and mix through.
In a small bowl, whisk together dressing ingredients until smooth and add to the salad. Toss to mix and season salad to taste with salt and pepper.
Rate This