Paleo pancakes with blood orange sauce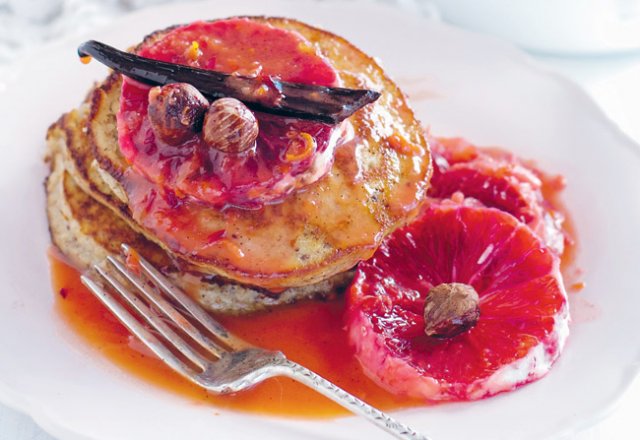 Go grain free
Looking for paleo breakfast ideas? Try these grain-free paleo pancakes with blood orange sauce.
Ingredients (makes 12)

For the sauce
60g butter
3 blood oranges (2 peeled and sliced, 1 juiced)
Juice from 1 orange
1 tbsp lemon juice
2 tsp coconut sugar or raw honey
1 vanilla bean, sliced in half

For the pancakes
4 eggs
1 tsp vanilla extract/essence
1 banana
2 tbsp coconut flour
1 ½ cups hazelnut meal
½ tsp baking soda/bicarb soda
Ghee or coconut oil for cooking

Method
For the sauce, heat butter in a small saucepan. Add blood orange and orange juice, lemon juice, coconut sugar and fresh vanilla bean. Bring to simmer and add slices of blood orange. Cook on low heat for 15 minutes, stirring occasionally.

Meanwhile, whisk eggs and vanilla extract in a bowl.

Mash banana and fold into the liquid mixture. Add flour and hazelnut meal and sprinkle baking soda all over the mix. Whisk until well combined.

A simpler method is to blend all ingredients in a blender. Add liquid ingredients and banana first and, after 10 seconds of blending, add the dry ingredients and whiz a few times.

Heat a large frying pan over medium heat and melt a teaspoon of ghee or coconut oil. Using about a quarter of a cup of mixture per pancake, cook the first batch for two minutes on one side, or until bubbles appear on the surface, and for another minute on the other side.

Transfer to a plate and cover loosely with aluminum foil or a towel to keep warm. Repeat with the remaining mixture, brushing pan with extra ghee in between batches.

Recipe by Irena Macri

NEXT: Which diet will work for you?
Rate This