Raw chewy pecan brownie with peanut butter frosting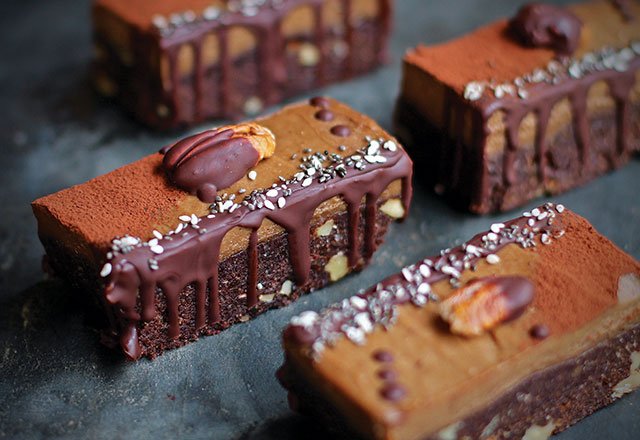 Ditch the sugary 3pm snacks for this raw, healthy alternative.
Whether you serve this as a dessert at the dinner party or indulge in a health snack, these brownies by Kath & Jade Woodd of Panaceas Pantry are sure to satisfy.
Ingredients (makes 10)
Brownie
2 cups raw pecans (or walnuts), processed into a flour
1 ½ cups Medjool dates, pitted
2 tbsp mesquite powder (optional)
½ tsp good-quality salt
⅔ cup raw cacao powder
½ cup coconut flour or almond meal
¼ cup rice malt syrup
Frosting
1 small ripe avocado
¼ cup natural peanut butter
¼ cup full-fat coconut cream
2 tbsp coconut oil, melted
2 tbsp rice malt syrup
Method
Brownie
Combine all ingredients in a high-speed food processor until a stiff dough has formed. Press dough into your desired cake tin and set aside in the fridge.
Frosting
Combine all ingredients in a high-speed blender until very smooth. Pour over your brownie base and set in the freezer. Decorate with melted dark chocolate and chia seeds (optional). Allow 20 minutes to defrost before serving. Store in the fridge for 3 to 4 days.
Recipe and images by Kath & Jade Woodd at @panaceas_pantry.
NEXT: Sticking with the raw food theme, a raw carrot cake is on the menu.
Rate This