Peninsula Hot Springs launches its Wellness Calendar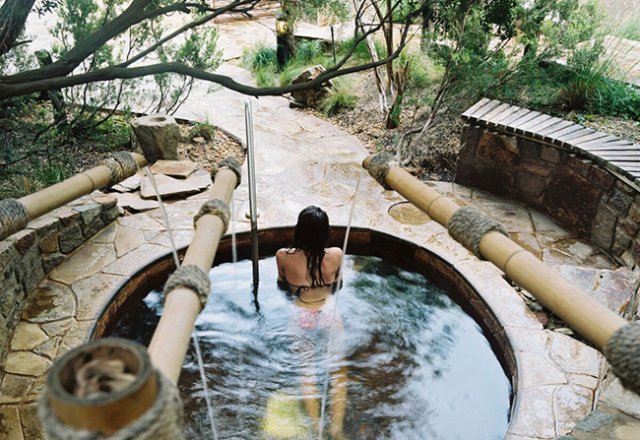 A day at the spa is just what the doctor ordered.
If an interstate retreat is off the cards, a trip to the Peninsula Hot Springs is all you need and with the launch of the Wellness Calendar, there's even more reason to venture off and reconnect with nature. Online editor, Christine Assirvaden, did the groundwork and discovered a day at the spa should be considered part of a regular, healthy routine.
Here's what a day at the Peninsula Hot Springs looks and feels like:
9AM - The road trip
In between working full-time, going to the gym and combatting life's stresses, I was happy to put my hand up for a day of relaxation to experience the Peninsula Hot Springs Wellness Calendar launch. On my drive down to the springs on Friday morning, pumping RnB Friday tunes, I tried to prepare my mind for the relaxing day I had ahead. But my attempt failed miserably; instead I was thinking about everything I had to get done on the weekend and whether or not I packed a change of clothes. After an hour and a half drive from Melbourne's CBD, I pulled up and I was ready.
10AM - Welcome, yoga and meditation
I was guided to a cornered off area where the new Royal Moroccan tent was set up. As I stepped inside, I immediately took in the aura. Following some small talk with my fellow media friends, I finally met Stephanie Prem, Hot Springs' first Wellness Ambassador, who was also taking part in our wellness experience. After quick introductions and some background information about the Hot Springs' history, yoga and meditation outside the Royal Moroccan tent was underway.
As a self-professed gym bunny, it has taken me some time to wrap my head around the whole idea of yoga. Like many out there find it hard to 'switch off'. Before I jumped out on the mat, I had to make a quick decision whether to ditch my phone or keep it with me for work purposes (life of an online editor). I reluctantly placed it next to the mat - big mistake. As the sun started to shine through the clouds, with one eye closed and one eye closely watching our instructor Sonya, I started to feel relaxed and 'in the moment'. The day then turned into one of complete tranquility.
12PM - Lunch date & spas
We made our way to the Bath House Café, where we were treated with refreshing juices and a beautiful spread of dips, salads and mains. We got carried away chatting with one another and we were soon rushed off to our bathing experience. Bathrobe and towel in hand another secluded area was on the menu.
This part of the afternoon included a quick meditation session, a walk along the Reflexology Walk and a taste of the Global Bathing Journey with the Moroccan Hammam. For those who haven't heard of the Moroccan Hamman, it's definitely worth a try. In short, the cultural bathing experience involves a three-step exfoliating, detoxifying and moisturising practice in the Hammam steam room. Once completed, your skin is smoother than ever and cleansed of toxins.
2PM - Facials & tea
Just when we thought things were coming to an end, we were treated to a delightful facial with the new Synthesis Organics range. We tip toed our way up the hill to an exclusive extension where we were greeted by their wonderful beauty therapists. After a quick skin consultation, I awkwardly stepped up onto the massage bed and was wrapped with warm towels and began to take in the soothing scents. Before I knew it, I was in another world and to the beauty therapist's surprise, well more so mine, I snorted out of a quick snooze. With my skin feeling softer than ever, I woke from my daydream, completely dazed. I was in a new state of relaxation; I'd never felt before.
3PM - Home time
And just like that, it was a snap back to reality and I had to make the drive home back to Melbourne. Fresher, cleaner and completely energised, I left the Peninsula Hot Springs with an appreciation of something many of us take for granted. As Steph Prem says, "your health is your wealth," it's important to really consider 'me' time and practice it.
For more information on the Wellness Calendar and activities visit the official website.
Rate This