The new Hepburn Bathhouse & Spa Hammam experience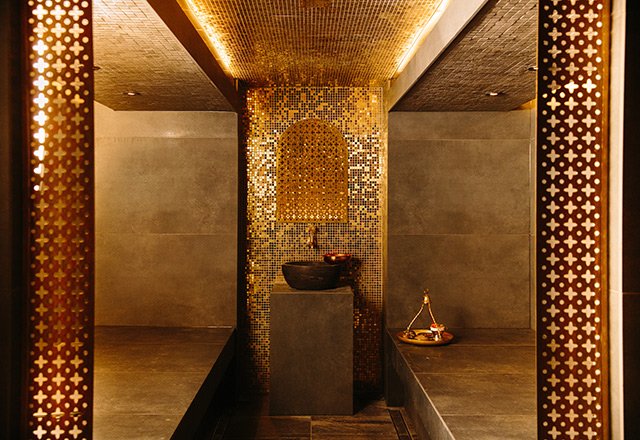 A taste of Moroccan culture.
Renowned luxury wellness sanctuary, Hepburn Bathhouse & Spa, has officially launched its authentic Moroccan-style Hammam, creekside pool and plunge pool in picturesque Daylesford.
Hammam meaning 'spreader of warmth' is inspired by the social and cultural practices in Morocco, and is a method of cleansing and relaxation using Hepburn's unique, mineral-rich water sourced from the earth for an experience like no other.
We caught up with Jamila El Maroudi founder and director of Mira's Hand, the authentic Moroccan Hammam products, to chat about the Hammam experience.
Back home in Morocco, the Hammam bathing experience was part of life, where friends and family members would come together and relax.
"You connect with each other, you relax together, you care for each other – that's the most important part, is that you connect through beauty and you connect through bathing," says Jamila.
Seeking to introduce the 'Hammam at home' concept to Australia, Jamila found the saw the Hepburn Springs as the perfect environment. Purchase the exclusive products ($29.00) and take part in this blissful experience.
Here's how the Hammam experience works:
Set foot into the newly built warm room heated by a continuous flow of hot, humid air, to open up your pores and begin the detoxification process. Next you will start the three-step Hammam process with the exclusive Moroccan Hammam products by Mira's Hand.
Start with exfoliating your skin with the Savon Noir – black soap made from macerated olives. Apply the soap on the skin and let it sit for 5-10 minutes, wash it off to help it soften the upper dermis layer of your skin. Following this, grab the Kessa glove and exfoliate your skin in a back and forth motion, to roll off the dead skin.
Next, you'll move into the detoxifying process with the Rhassoul clay from the Atlas Mountains in Eastern Morocco. Mix it with water or for a more musky experience mix it with rose or orange blossom water, or green tea. Apply it all over your skin, even behind your ears!
Moisturise with Moroccan Argan oil to complete the experience.
You'll walk out feeling cleansed, fresh, tension free and your skin will be smooth like never before.
Once you've completed the Hammam experience, head next door to the creekside pool overlooking the native Australian bush to soak in the serenity and take a dip into the refreshing plunge pool.
For Karen Golden, Belgravia Leisure Regional Manager Spa & Wellness, the complete spa experience at Hepburn Bathhouse & Spa is designed to promote health and wellness all year round and we agree.
"The new experience complements our wide range of features and incorporating our distinctive mineral water from Hepburn Springs… it should be considered an ongoing health and wellness investment," she says.
The Hepburn Springs offers a stimulating spa experience, where you can take part in rejuvenating treatments, mineral baths, massages, body scrubs and more. Book an overnight stay in one of their modern villas for a rounded experience.
Head to the Hepburn Bathhouse and Spa website and book your experience today.
Rate This