Melbourne's first Urban Wellness Retreat
A retreat like no other.
When you think of retreats, you think of yourself whisking away into nature, basking in a calm ambiance, reconnecting and finding a way back to your inner peace, right? Imagine if you could do all that – while sleeping in your own bed, Enter, Melbourne's own Urban Wellness Retreat.
Toorak's intolerance friendly Yardmill Kitchen and Grocery and High St meditation, yoga and Pilates destination, Happy Melon have joined forces to create a wellness program suitable for all lifestyles without having to travel.
What is the Urban Wellness Retreat?
The Urban Wellness Retreat comprises a three (introductory offer $435) or five day package (introductory offer $725), where you are given a menu of nourishing food and beverages prepared by Yardmill's chefs, alongside a structured series of meditation and mindful movement sessions at Happy Melon to reset the mind and body. The program is both accessible and convenient, and let's you rejuvenate close to home.
What to expect?
All your meals and snacks prepared daily by the talented team at Yardmill and an invigorating wellness experience with the cheerful team at Happy Melon. Catering to all dietary and lifestyle needs, Yardmill understands the importance of nourishing bodies with seasonal and locally grown produce. For Yardmill's founder, Tracey Sission, this program is an extension of their current Wellness Packages.
"I thought it would be great to offer the complete retreat experience without the inconvenience and expense of leaving town," she says.
"Our approach to wellbeing is very aligned and the Urban Wellness Retreat is a result of listening to our communities and understanding what they need."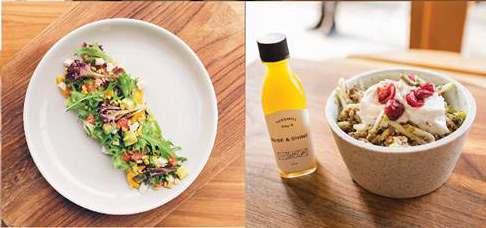 The collaboration
Teaming up with Happy Melon means you can experience a full rounded retreat with the aid of yoga and meditation practices. For studio manager Sarah McLachlan, joining forces with Yardmill further cemented their desire to provide exceptional customer service and a unique experience.
"We love collaborating with brands that are doing great things for the wellness industry. Yardmill is one of those brands, offering mindfully prepared meals made from the best local ingredients for people with food intolerances or who are looking to cut processed food out of their diet," she says.
"We are a studio with a community of people who are after the same thing – connection. We help people connect to their true selves and to those around them. We encourage all guests to slow down, to breathe and to really listen to their minds and bodies."
Whether you want to escape work life stresses, reconnect or relax, the Urban Wellness Retreat can cater to your needs.
Rate This