Banana coconut & teff muffin recipe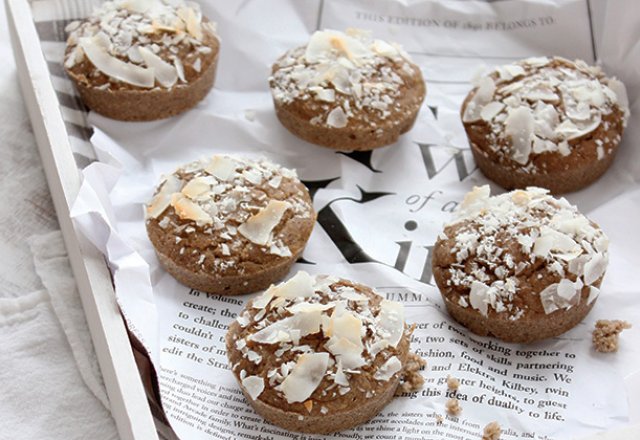 Yummy treats with the delicious ancient grain.
Treat yourself to these tasty banana and coconut teff muffins by Sally O'Neil.
Ingredients (serves 12)
3 large ripe bananas, mashed
1 cup almond milk
2 tbsp rice malt syrup*
1 ½ cups almond meal
¾ cup teff flour
2 tsp baking powder
1 tsp ground vanilla bean or vanilla extract
1 tsp ground cinnamon
½ cup granulated Stevia
2 tbsp coconut flakes
* can sub honey, maple syrup or other liquid sweetener
Method
Preheat oven to 160°C (fan-forced).
Mash the bananas then add milk and liquid sweetener and mix until smooth. In a separate bowl, add all the dry ingredients (excluding the coconut flakes) and mix.
Add the wet ingredients to the dry mix and whisk until a smooth batter forms.
Spoon into 12-hole silicone muffin tray. Top each muffin with some coconut flakes and bake for approximately 30 minutes until a skewer comes out clean.
Looking for more fit food? Try these chia and rockmelon puddings and read all about the benefits of teff.
Rate This