Cauliflower crust pizza recipe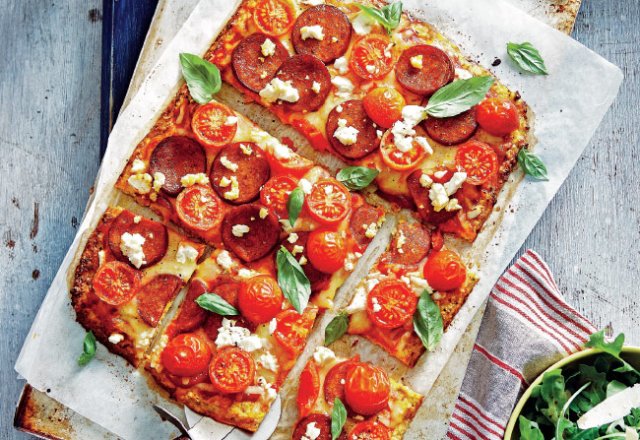 A pizza the kids will love.
Mix up pizza night with this healthy take on a pizza classic.
Ingredients (serves 4)
1 large cauliflower, grated or blended into 'rice' with a food processor or blender, to make about 4 cups
3 eggs (free-range, organic), lightly beaten
1 tsp dried oregano
1 tbsp Italian seasoning
¾ cup almond meal
4 tbsp grated parmesan cheese
1 tbsp salt
1 tbsp pepper
Topping
½−¾ cup tomato passata or tomato paste
1 cup grated mozzarella cheese
1 chorizo sausage, thinly sliced
250 g cherry tomatoes, halved
1⁄3 cup goat's cheese, crumbled
½ cup basil leaves
Method
Preheat the oven to 200°C.
Put the cauliflower 'rice' into a microwave-safe bowl and microwave for 8−10 minutes on high or until the cauliflower becomes tender. Drain and set aside to cool. Tip the cauliflower into the middle of a tea towel. Wrap it into a bundle, and twist closed, squeezing out any remaining moisture over the sink. You need a proper pizza base, not a crumbly mess.
Transfer the drained cauliflower to a large bowl and add the eggs, oregano, Italian seasoning, almond meal, parmesan cheese and salt and pepper. Fold the mixture—or use your hands to mix the dough—until it is well combined. If it's still a bit too runny, add another tablespoon of almond meal to firm it up.
Heat a nonstick pizza tray or baking tray for 5–10 minutes, then spread the dough out in a layer 5 mm thick. Bake the dough for 15 minutes or until it becomes golden. Remove from the oven (but leave the oven on).
Spread the tomato passata or paste evenly over the base, followed by the grated mozzarella, chorizo and cherry tomato. Scatter the crumbled goat's cheese in between the chorizo and tomato, then sprinkle with the basil leaves. Return to the oven and cook for a further 5–10 minutes or until the cheese has melted.
TIP: Replace the toppings or add to them with other toppings of your choice: we love baby spinach, spicy merguez sausage and pitted kalamata olives.
Recipes from The Good Life available from (Allen and Unwin, $34.99)
Rate This