Moroccan mussel and harissa stew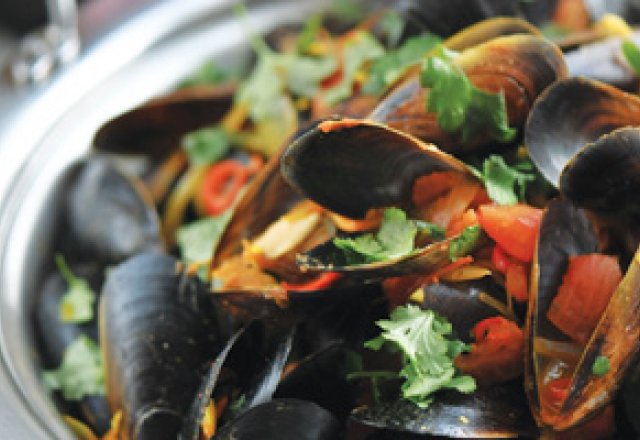 Serve with cooked quinoa kasha to mop up the beautiful juices
Walter and Dorota Trupp of Trupp Cooking School share some of their most mouth-watering recipes and teach you how to be a five-star chef at home
Ingredients (serves 2)
800 grams mussels, in their shell
2 chillies (optional) deseeded and chopped finely
1 onion sliced
2 tablespoons of coconut oil (use butter or ghee as replacement)
2 cloves of garlic, crushed
3 tomatoes diced
½ bunch coriander or parsley, finely chopped
1-teaspoon cumin
2 teaspoons smoked paprika
1-teaspoon turmeric powder
Prep: 30 minutes; Cooking time: 40 minutes
Method
In a large pot, heat the oil on medium. Fry the onion and garlic and when well browned, add the chilli, cumin, paprika, turmeric
and tomatoes.
Cover and continue to cook on a low heat for 10 minutes.
Add the mussels cover again and increase the heat to high.
Cook for two to three minutes, then shake the pot and cook for another minute, remove the lid and sprinkle the chopped coriander over.
Serve the mussels in a deep bowl with the buckwheat kasha on the side.
Browse more recipe ideas and don't forget to connect with us on Facebook!
Rate This