Chocolate bean chilli with walnuts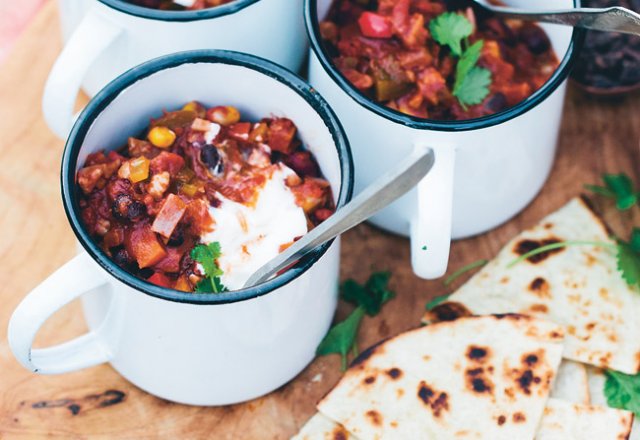 A exotic vegetarian meal
Bored of the the usual vegetarian recipes? Try chocolate bean chilli with walnuts – a recipe with a twist!
Ingredients
1 large yellow onion, finely chopped
2 garlic cloves, finely chopped
2 tsp cumin seeds or 1 tsp ground cumin
1 fresh chilli, deseeded and minced
1 tsp ground paprika
1 tsp dried oregano
1 red capsicum, seeded and finely chopped
1 yellow capsicum, seeded and finely chopped
1 carrot, finely chopped
2 corn cobs, kernels cut off
2 celery sticks, leaves too, finely sliced
150 g walnuts, finely chopped
3 x 400 g cans mixed beans, drained
2 x 400 g cans whole plum tomatoes
250 ml water
2 tsp sea salt and black pepper
60 g dark chocolate, roughly chopped
2 tbsp cold-pressed coconut oil, olive oil or ghee

To serve
120 ml yoghurt, or vegan alternative
1 handful coriander, coarsely chopped
4 corn tortillas, toasted
Method
Heat oil in a large heavy-based saucepan or casserole dish over medium heat.
Add onion, garlic, cumin, chilli, paprika and oregano and cook for a couple of minutes, stirring occasionally, until the spices smell fragrant and the onions are soft but not browned.
Add the capsicums, carrot, corn and celery, cook for another couple of minutes.
Add the walnuts, beans, tomatoes, water and salt, bring to the boil, then reduce heat and simmer for 20 minutes. Now add the chocolate, stir in carefully and cook for another couple of minutes. Taste and season with sea salt and freshly ground pepper.
Serve in bowls, garnished with a dollop of yoghurt and chopped coriander with toasted corn tortillas on the side.
Recipe and images from Green Kitchen Travels

You might like Mexican breakfast salad
Rate This