Crunchy pumpkin salad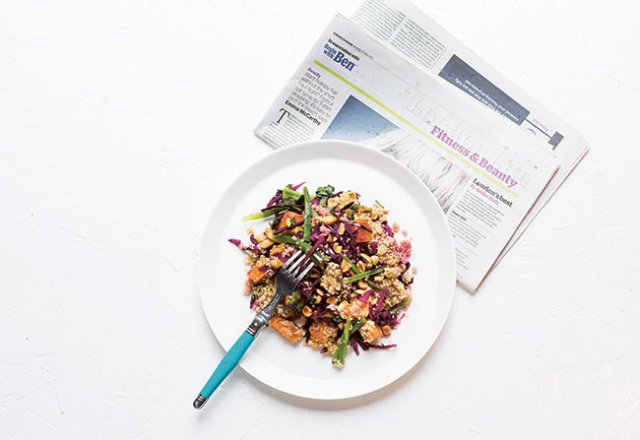 Perfect for those lunch time feasts.
Tuck into this delicious salad full of colour and texture.

Ingredients (serves 2)
1 small butternut pumpkin
coconut or olive oil
120 g quinoa
½ a red cabbage
1 green pepper
For the satay dressing
1 tbsp fresh coriander
3 tbsp soy sauce
1 tbsp peanut butter
juice of 1 lime
a little chilli/ginger if you want some spice
a splash of water/rapeseed oil
Method
Preheat the oven to 200°C and boil a full kettle. Peel the pumpkin and cut into roughly 3 cm (1¼in) chunks, discarding the seeds. Place on a baking tray with a splash of oil and a pinch of salt. Roast for 15-20 minutes until tender and golden. Halfway through cooking, give the tray a shake/stir to prevent the pumpkin chunks from catching.
Meanwhile, put the quinoa in a pan and cover with boiled water. Cook for 8-10 minutes until al dente. Drain and rinse under cold water.
While the quinoa cooks, remove the outer leaves and core from the red cabbage, then thinly slice. Dice the pepper into small strips, discarding the core and seeds.
Mix the cabbage and pepper through the quinoa and season with a pinch of salt.
Blitz all the ingredients for the satay dressing in a blender, then toss the pumpkin with the dressing.
To pack, spread the quinoa in two lunchboxes and then pile the pumpkin on top.
By Naomi Twigden and Anna Pinder.
This recipe is taken from Lunchbox Salads by Naomi Twigden and Anna Pinder, published by Ebury Press, $35.This book contains non-vegan recipes.
Rate This