Enlightened eating with Lola Berry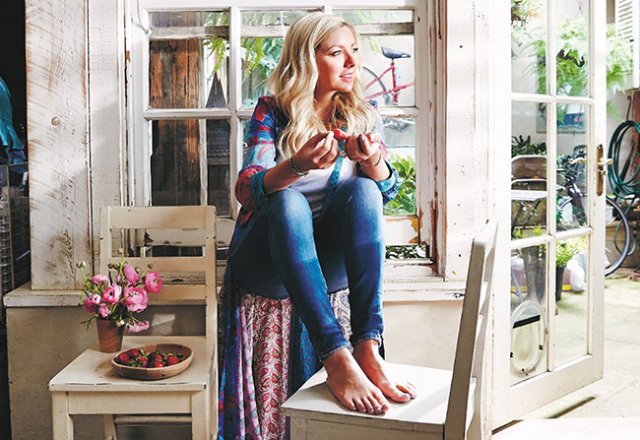 Discover what food means to her.
We chat to nutritionist and yoga teacher Lola Berry about the importance of nourishment as she shares her favourite dish to tuck into this winter.
ON FOOD AND NUTRITION
I've always been a foodie, I remember going to my first boyfriend's place for dinner when I was in high school, I thought I was being polite just eating what was on my plate. Then at the end of the night my boyfriend's dad announced, "She's an eater", so I guess you could say I've been a foodie for yonks!
ON FOOD AS MEDICINE
I think that some foods have awesome medicinal properties and I think great food is what nourishes the body.
ON DIET AND VITALITY
The bottom line is if you feed your body vital, real foods you'll feel strong, clear and vital – the best version of yourself. And on the other hand if you fuel your body with junk food, it won't take too long to feel like junk, I'm speaking from experience here, and I'm no saint. I slip with my eating, but to be honest, the truth is I just want to feel good, which means making choices which will nourish my body, mind and soul.
ON EATING MORE MEDICINAL FOODS
My first tip would be to see a naturopath, they can even prescribe you medicinal herbs. If you want to have a dabble yourself, look into medicinal mushrooms, there's heaps of info on them and cognitive function. Great for studying and overall brain health.
ON HEALTH AND WELLBEING
I think when it comes to health, try to simplify it, bring it back to basics, listen to your body, it will tell you what it likes or doesn't like. Then remember this, every time you eat it's a choice, you get to choose how you're going to nourish yourself every single meal. That's pretty empowering.
Try her pumpkin & almond tartlets today!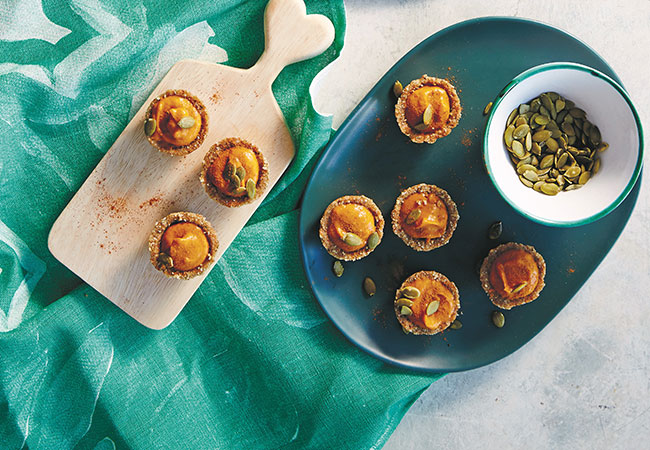 Ingredients (makes 9 regular or 18 mini tartlets)
FOR THE FILLING
1 ½ cups diced pumpkin
2 tbsps extra-virgin olive oil
2 tbsps almond milk, plus extra if needed
3 tbsps coconut oil, melted
3 tbsps maple syrup
1 tsp ground cinnamon
½ tsp ground nutmeg
¼ tsp ground ginger
pinch of salt flakes
tiny pinch of ground cloves
FOR THE CRUST
1 cup almonds, activated if possible (see note)
3 tbsps pumpkin seeds
3 tbsps desiccated coconut
2 tbsps coconut oil, melted
3 pitted medjool dates
pinch of salt flakes
TO SERVE
3 tbsps pumpkin seeds
sprinkle of ground cinnamon
sprinkle of ground nutmeg
Method
Preheat the oven to 180°C. Line a baking tray with baking paper and a regular muffin tray with 9 patty cases or a mini muffin tray with 18 mini patty cases. Alternatively, lightly spray the muffin tray with cooking spray and line with plastic wrap.
To make the filling, spread the pumpkin over the prepared tray, then drizzle over the olive oil, tossing the cubes to coat well. Bake for 25 minutes, or until the pumpkin is soft and beginning to brown. Remove from the oven and set aside to cool.
While the pumpkin is cooling, make the crust. Pop all the ingredients into the food processor and whizz together until thick and biscuity. Divide the mixture evenly among the patty cases and use wet hands to press the mixture into the base and sides. Chill in the freezer for 10 minutes to set.
To finish the filling, put the pumpkin and remaining ingredients in the food processor or blender and whizz together until nice and creamy, adding a little extra almond milk if you need to thin it out a bit.
Grab the crust bases from the freezer. Pour in the creamy pumpkin filling, then pop in the fridge for 3–4 hours to chill and firm up. When set, top the tarts with the pumpkin seeds, cinnamon and nutmeg.
Enjoy!
NOTE: To activate nuts, soak them in water for 2–3 hours (or overnight, if possible) then rinse. This removes the enzyme inhibitors and makes them easier to digest.
We catch up with chef and nutritionist Zoe Bingley-Pullin and nutritional biochemist and author Dr Libby Weaver in the August-September 2017 edition of Australian Natural Health to get an insight into the importance of nourishment and their favourite recipes!
Rate This