Linguini of broccoli, herbs 
& hazelnut crumb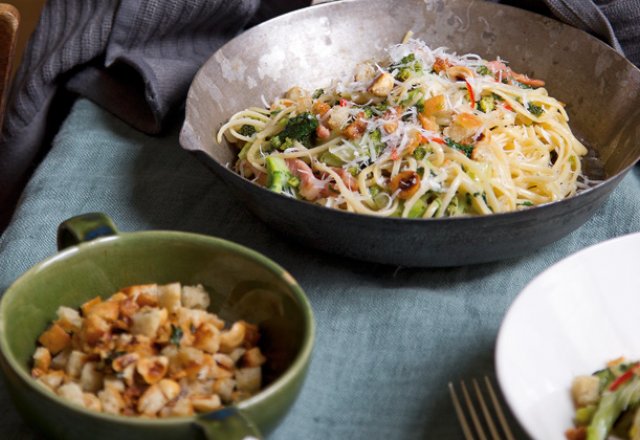 Quick and simple meat-free recipes
Chef and restaurateur, Matt Wilkinson, shows us a quick and simple meat-free dish to make at home that may just become your new best friend.
Ingredients (serves 2)
30 gm (1 tbsp) hazelnuts
50 gm (1 ¾ tbsp) ciabatta bread (crusts on), torn into pinky-fingernail-sized pieces
2 tsp thyme leaves
190 gm (6 ¾ tbsp) dried linguini
30 gm (1 tbsp) butter
n25 ml (¾ tbsp) olive oil
1 large French shallot (eschalot), sliced
1 garlic clove, thinly sliced
½ long red chilli, thinly sliced
6 anchovy fillets
1 head of broccoli (about 340 g), florets and stalk chopped
3 tbsp pasta cooking water
3 tbsp white wine
8 large basil leaves, finely chopped
¼ bunch flat-leaf (Italian) parsley, leaves picked and chopped
1 lemon, juiced
10 turns of black pepper from a mill
Finely grated parmesan, to serve
Method
For the hazelnut crumb, preheat the oven to 180°C. Roast the hazelnuts for five to 10 minutes. Place in a tea towel and rub off the skins while still warm. Roughly chop and place in a large bowl. Set aside.
Turn up the oven to 200°C. Place the bread on a baking tray and bake for three to five minutes or until dried and crispy. Add to the hazelnuts, along with the thyme.
Bring two litres of salted water to the boil. Add the linguine and cook for six to seven minutes or until al dente. Take off the heat and allow the pasta to sit in the water.
Meanwhile, place a large frying pan over medium heat and add the butter and olive oil. Add the shallot, garlic and chilli, turn down the heat to low and cook until softened. Turn the heat up to medium, add the anchovies and broccoli and cook, stirring frequently, for four minutes.
Add the pasta cooking water and wine, turn up the heat to high and reduce the liquid to one-quarter. Drain the pasta and add to the sauce. Stir to incorporate all the ingredients. Take off the heat and add the herbs, lemon juice and pepper. Divide among bowls and scatter over the parmesan and hazelnut crumb.
NOTE: Any leftover hazelnut crumb can be kept in an airtight container in the cupboard for up to 3 months — I've always a little up my sleeve just in case I think a dish may need it.
Rate This