Japanese millet and quinoa balls recipe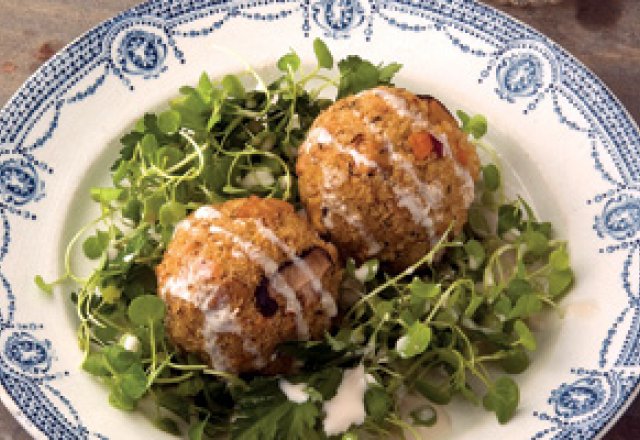 Impress your friends with this delicious appetiser
As the seasons change so too do our eating habits. For delicious food all year round, try this yummy recipe from Janella Purcell's cookbook, Eating for the Seasons.
Fancy cooking something a bit different? These Japanese millet and quinoa balls make the perfect appetiser or healthy snack.
INGREDIENTS (makes about 8 balls)

1 small white onion, diced
1 tablespoon olive oil
1 garlic clove, crushed
1 teaspoon ginger, grated
1 tablespoon coriander stems (optional)
1 cup millet
½ cup quinoa
500 ml vegetable stock
8 shiitake mushrooms, diced
1 tablespoon arame
1 corn cob, kernels removed
1 cup sweet potato, grated
2 tablespoon each Italian parsley and corianderleaves, finely chopped
½ cup each black and white sesame seeds

Ginger And Tahini Dressing
1 tablespoon hulled tahini
1 teaspoon ginger juice (made by squeezing grated ginger)
1 teaspoon umeboshi vinegar
Water, as needed

METHOD
In a medium-sized pot, sauté the onion in the oil until translucent. Add the garlic, ginger and coriander stems and stir again to coat. Add the millet and quinoa and stir to coat the grains thoroughly. Add the stock, mushrooms, arame, corn kernels and sweet potato. Simmer for about 20 minutes or until the grains are tender and almost cooked.
Take the pan off the heat, put a lid on it and let the grains continue cooking in their own heat for at least 15 to 20 minutes. Take the lid off and allow the mixture to cool before covering again and leaving in the fridge overnight.
The next day, make the dressing by whisking all the ingredients together, using enough water to thin it out to the consistency of pouring cream. Set aside.
Stir the herbs into the millet mixture. Using your hands, roll about ¼ cup of the mixture into a ball and roll in either the black or white sesame seeds. Keep making the balls, rolling half in black and half in white sesame seeds and place them on an oiled baking tray. Bake at 200°C (400°F) for about 10 to 15 minutes, or until they start to change colour. Serve on a platter with some mixed leaves and the dressing on the side or drizzled over the top.
CHEF'S TIP: Add half a cup of split red lentils for protein, or any veggie you like to the mixture.
Get more delicious recipe ideas and find out which is the healthiest bread. Don't forget to share your thoughts on Facebook.
Rate This