Indian spiced potatoes with fried egg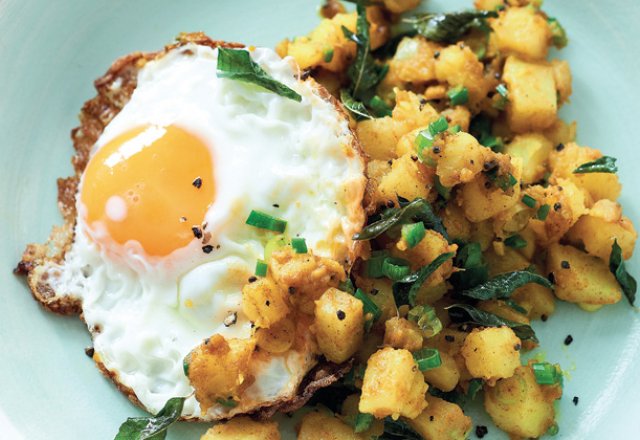 Meat-free recipes
Chef, restaurateur and food-writer Bill Granger shares his delicious, spicy meat-free Indian recipe.
Ingredients (serves 4)
800 gm desiree potatoes, peeled and cut into 1 cm cubes
125 ml (½ cup) light flavoured oil
1 tsp black mustard seeds
2 garlic cloves, finely chopped
1 tbsp finely chopped ginger
1 tbsp medium-hot curry powder
½ tsp turmeric
25 gm unsalted butter
6 spring onions, trimmed and finely sliced
1 long green chilli, finely diced (deseeded, if preferred)
½ tsp flaked sea salt
4 large eggs
Small handful curry leaves
Method
Bring a large saucepan of salted water to the boil over high heat. Add the potato, reduce to a simmer and cook for 13 minutes, or until just tender. Drain in a colander and leave to cool for a few minutes. Place a non-stick frying pan over medium–high heat. Heat two tablespoons of the oil, sprinkle the mustard seeds into the pan and cook for a few seconds, or until just beginning to pop. Add the garlic, ginger, curry powder and turmeric and cook for 30 seconds, stirring constantly.
Drop the butter into the pan and as soon as it has melted, add another tablespoon of oil and the potatoes. Fry for five minutes, turning often. Scatter the spring onion, chilli and salt over the potatoes and toss together for a minute more. Season to taste and divide the potatoes between four warm plates.
In a clean large non-stick frying pan, add another tablespoon of oil and place over medium–high heat. Once hot, fry the eggs for two to three minutes until cooked. Meanwhile, fry the curry leaves in the remaining oil over medium–high heat for two minutes, until dark and glossy. Drain on paper towel.
Place the fried eggs on top of the potatoes and scatter with the curry leaves.

Rate This