How to apply flawless make-up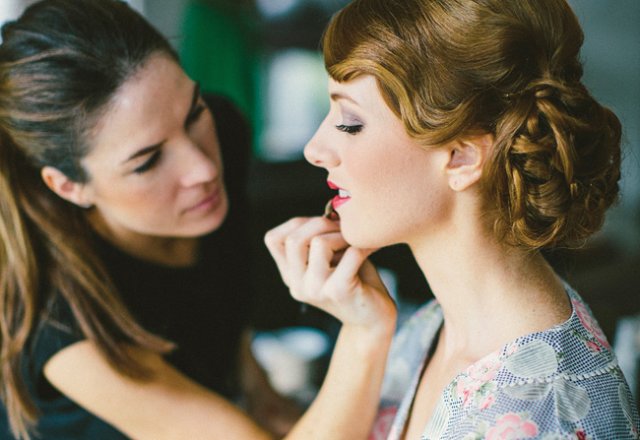 6 tips from the beauty experts
Learn how to apply flawless make-up that lasts all day.
1 Preparation is key
Have you seen the tabloid favourite 'stars with no make-up'? Oh yes, they are mere mortals themselves, abound with blemishes and uneven skin tone (we won't talk about the ones who get out of bed with skin like the baby's proverbial).
Yet, get them on a red carpet and they're all peaches and cream with skin so smooth it looks photoshopped. Celebrity make-up artist Gemma Skane (pictured) says prepping the skin is the most important step in achieving a beautiful look.
"Good-quality skin care preps the skin for a smooth, even canvas that improves the longevity of the make up," Skane says. "Your make up is only as good as the skin you apply it to."
Aside from your cleanse and moisturise routine, exfoliation is key to a flawless canvas. Getting rid of dead skin cells will allow your skin to achieve maximum results from your moisturiser, which will in turn help your make-up's longevity.
To accentuate a smooth look, Channel 7 make-up artist Haley Thompson (www.peachyclean.com.au) recommends a skin boost prior to applying foundation.
"I use either Sodashi Recovery Skin Boost or AEOS Energising Conditioner under my foundation to help hydrate and smooth out fine lines for a better finish," Thompson says. "A great base helps even out skin tone, sets your make-up and gives a dewy, glowing finish."
2. Colour match carefully!
You thought you looked amazing until the happy snaps popped up on Facebook and you looked like a member of the Cullen family (vamps are so 2012). Or perhaps you were the one who looked as if you had a fabulous tan, but only on your face. One of the biggest mistakes made is choosing foundation either too light or dark for our skin. La Mav's Tarj Mavi (www.lamav.com) says this occurs when we choose mineral make-up in poor lighting.
"The easiest way to colour-match is to source natural light and apply the minerals on the jawline," Mavi says. "The mineral colour should disappear once blended perfectly into the skin."
Skane advises matching your foundation to the colour of your chest before buffing the product under the jawline to get an even look.
Applying natural liquid foundation requires a different technique to its regular counterpart.
"As natural/organic make-up has no fillers or chemical binding agents, it can be challenging to apply natural liquid foundations as they don't have as much slip," Skane says. "Warm the product on your hand first before using your fingers to press it into the skin for a flawless finish – it's also easier to build coverage this way."
Quick tip: "Avoid blotchy or uneven skin tone by making sure you wait for your moisturiser to absorb completely into your skin before applying your mineral make-up", says Mavi.
3. Illuminate your best features
Once any blemishes are safely hidden away, it's time to bring your best features to the forefront. According to Thompson, her AEOS Illuminator provides a luminous 'pop' once swept along the cheekbones and below the brows.
"Illuminator is the best way to give yourself an 'I do nothing but eat superfoods and spend hours everyday meditating, doing yoga and bathing in spring water' glow," Thompson says.
When applied correctly, illuminators should provide a glow and highlight your features. They shouldn't look sparkly or shimmery. Get it right by using your fingertips to gently dab small amounts of your liquid illuminator along the top of your cheekbone, around the side of your eye and under your brows in a boomerang shape. For a powder illuminator, use a small eye shadow brush and apply in the same shape.
Feeling in need of a bigger boost than a mere 'highlight'? Eliminate tired looks by adding a tiny amount of illuminator to your foundation to give your whole face a subtle glow.
Quick tip: Olive/dark complexions should go for a gold or bronze-based illuminator while fair complexions head towards the pearly colours.
4. Perfect your pout

There's something about plump, full lips that scream, 'kiss me!' Seems to work for Angelina Jolie, from scoring Brad to…her brother. Obviously a full pout is simply irresistible and there are a few ways of enhancing yours.
A gentle lip exfoliation is the first place to start according to Skane.
"I have a quick and easy natural recipe for a luscious lip exfoliant," she says. "Just mix equal parts honey, olive oil and sugar – gently scrub over the lips and then wash off thoroughly."
Once you have smooth lips, apply a nude lip liner slightly above the lip line ("And I mean slightly," she warns) and then apply lipstick with a blush.
Try Sodashi's Eye and Lip Smoother, which nourishes and plumps the lips naturally and provides a great base.
Quick tip: A small dab of illuminator on your Cupid's bow and the centre of your lips is another very effective way of making your lips appear fuller (particularly with a nude or pale-coloured lippy).
5. Create lip colour that lasts
It's a mighty long walk, that red carpet. To ensure your lips last the length, apply a lip liner in nude or the same shade as your lipstick for extra hold.
"I always apply lipstick with a brush, blot with a tissue and then reapply the lippy again," says Skane.
Avoid lip gloss if you need your look to last, as it breaks down the product underneath and causes it to wear off faster.
This summer, Skane says the celebs are gravitating towards slightly offbeat colours.
"They're very different from the traditional red and pink," she says. "Berry, fuschia and tangerine will be big this summer. The look is fun and feminine!"
Quick tip: Skane says Alison Jade's Xtreme Lipstick in 'Fetching' is the perfect colour to get heads turning this season.
6. Don't forget to blush
Take a sneak peak into Thompson's purse on the red carpet and sitting at the top is her cream blush.
"Not only are they smash-proof and they help to give a dewy finish, but in a pinch they can work perfectly to touch up lips and eyes with a natural pop of colour," she says.
If you use a powder blush, remember a little goes a long way in the mineral world. Without any added fillers or nasties, the pigment is extra concentrated so when applying, tap off all excess powder from your brush before gently sweeping onto the apples and cheekbones.
NEXT: How long should you keep your make-up?
Photo credit: Natasja Kremers Photography
Rate This