Homemade icy poles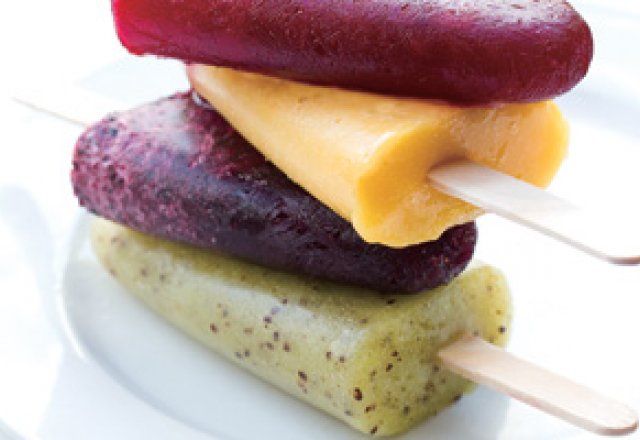 A sweet and frozen treat
Icy poles are very easy to make and are as delicious as they are healthy
If you have kids at home, it's a fun and interactive way to get them involved in cooking, while still treating them to something sweet, colourful and refreshing (all the while luring them away from the chemical-laden store-bought kind).
You really don't need a recipe for icy poles as it's essentially frozen fruit juice, but here I've included a few templates to get you going and some flavour ideas for inspiration.
MANGO LASSI
You will need:
2 small, ripe mangos, peeled and chopped

½ cup yoghurt or milk

Pinch of ground cardamom
Method: Blend all ingredients together until smooth.

ROSEHIP RASPBERRY TEA
You will need:
2 cups water

4 rosehip teabags

Handful of raspberries

2 tbsp sweetener
Method: In a pot, bring raspberries and a splash or water to a boil and stir until raspberries are dissolved. Add remaining water and bring to a boil. Add teabags and brew for 5 minutes. Add sweetener and strain tea through sieve to remove raspberry pulp. Allow to cool.
BERRY BREEZE
You will need:
250g fresh berries

1-2 tbs of sweetener, or to taste

Juice of 1 lemon

4 tbs water or fruit juice
Method: Add berries, sweetener and lemon juice to a food processor. Blend until combined, leaving a few chunks of berry for texture.
Note: Any fresh or frozen berries work here (blueberries, raspberries, strawberries or a combination)
I've just said sweetener in the recipes – this can include raw honey, maple or agave syrup. A food processor is required for most recipes and if a smoother consistency is required then sieve the fruit puree before putting into molds. Generally, freezing time is around four-to-six hours.
Browse more festive recipes or join the chatter on Facebook!
- Rosie Percival and Ruth Friedlander - Green Cooks
Photo credit: Jessica Symonds
Rate This