Watermelon, cucumber, lemon & mint flavoured water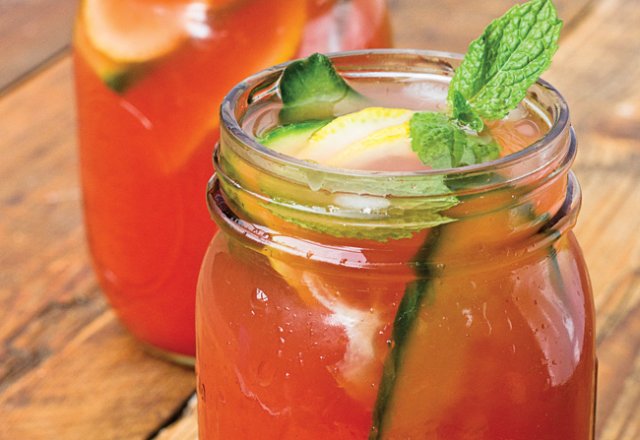 Add some pizzazz to water by steeping fruit and herbs for flavour.
Who ever said water was boring? Make this the night before for optimal flavour and invest in a cocktail muddler to 'muddle' the flavours out; alternatively, the back of a wooden spoon will suffice.
Ingredients (fills a 2 litre Mason jar)
Handful fresh mint leaves
¼ watermelon, cubed
½ Lebanese cucumber, sliced
1 lemon, sliced
2 sticks cinnamon quills
¼ cup liquid sweetener such as honey 
or maple syrup (optional)
METHOD
Add mint to jar and gently muddle to release flavours. Add watermelon, cucumber and lemon, press to release flavour. Add cinnamon quills and enough ice cubes to almost fill jar. Add with water to about 10cm from top to give space for ice to melt.
Cover and refrigerate for several hours or until ice cubes have melted. Pour water into glasses to serve, strain if desired. Refill jar with water to reuse again.
Recipe by Rosie Percival from Green Cooks; Photo credit: Jessica Symonds.
Rate This