Green Supreme Layered Smoothie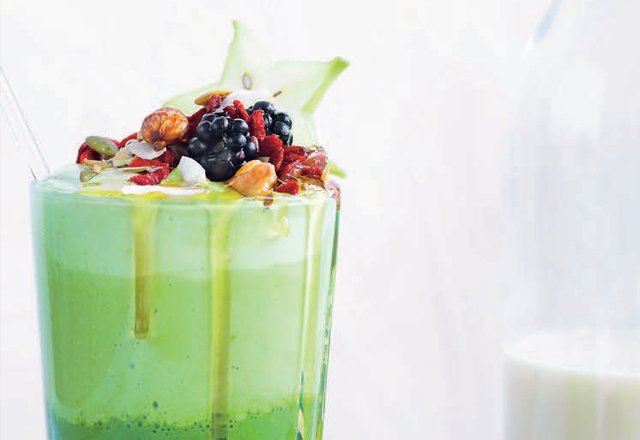 This layered green smoothie a delicious beverage packed with health.
Serves 3
Ingredients:
270 g (6 cups) frozen baby spinach leaves
3 frozen bananas
945 g (3 cups) frozen mango pieces
750 ml (3 cups) unsweetened vanilla almond milk, plus 250 ml (1 cup) unsweetened vanilla almond milk extra
Place the spinach, banana, mango and 3 cups of almond milk in a blender and blend until smooth. Divide the
mixture into three portions.
Divide portion 1 across three jars and freeze for 2 hours. While portion 1 freezes, take portion 2 and add ¼ cup
vanilla almond milk. Pour portion 2 on top of portion 1 in each jar and return it to the freezer.
Take portion 3 and add the remaining ¾ cup of vanilla almond milk. Pour portion 3 on top of portion 2 in each jar and freeze until firm.
TIP
Top as desired. We've used:
• paleo granola
• blackberries
• pumpkin seeds (pepitas)
• star fruit
• honey
• goji berries
Images and recipes from
Super Green, Simple and Lean
by Sally Obermeder and Maha Koraiem, published by Allen & Unwin, with photography by Ben Dearnley. RRP $24.99, available in all good book stores now.
Rate This