Tofu tacos with grilled pineapple & mango salsa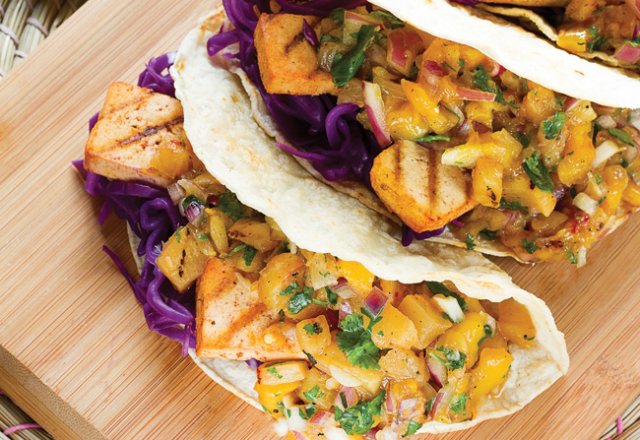 Vegetarian recipes from Green Cooks
The grilled tofu tacos are a vegetarian twist on the conventional fish tacos and the salsa is a sweet and tangy compliment to drizzle over any other grilled numbers.
Ingredients (makes 10 small tacos)
Marinade
1 tsp cumin powder
1 tsp paprika
¼ tsp cayenne
1 tsp dried oregano
½ tsp black pepper
1 tsp salt
¼ cup juice (lime, lemon, pineapple)
300 g medium-firm tofu
10 small corn tortillas
¼ small red cabbage, finely shredded
METHOD
In a small bowl, mix marinade ingredients.
Cut tofu into 2cm slabs (approx. 10 slabs). Lay tofu in a single layer in a shallow dish and evenly spread marinade over tofu slabs. Turn to coat both sides. Refrigerate for at least two hours to allow tofu to absorb liquid.
To cook tofu, heat a splash of oil in a large heavy-based pan or wok and cook for five to seven minutes, turning once until lightly browned and fragrant.
Cook tortillas according to packet instructions (times vary depending on freshness), however, 15 to 20 seconds each side is usually sufficient.
Fill tortillas with cabbage, tofu and salsa.
Grilled Pineapple and Mango Salsa (makes 500ml)
½ pineapple, cored and cut into ¼ inch slices
1 ripe fresh mango, diced
½ cup chopped fresh coriander leaves
¼ small red onion, diced
¼ tsp chilli flakes
Zest and juice of two juicy limes
METHOD
Heat a grill or BBQ to a medium-to-high heat. Lightly spray surface with cooking oil. When hot, add pineapple and cook for two to three minutes each side until warm and pineapple starts to caramelise and darken. Remove and set aside until cool enough to handle. Chop into chunks and add to a food processor or blender.
Add remaining ingredients to food processor and pulse until combined and a chunky salsa-like texture has been reached. Refrigerate in an airtight jar for up to one week.
Browse more healthy food ideas or connect with us on Facebook!
Recipe by Rosie Percival; Photo credit: Jessica Symonds
Rate This