Gluten-free herb & spinach cannelloni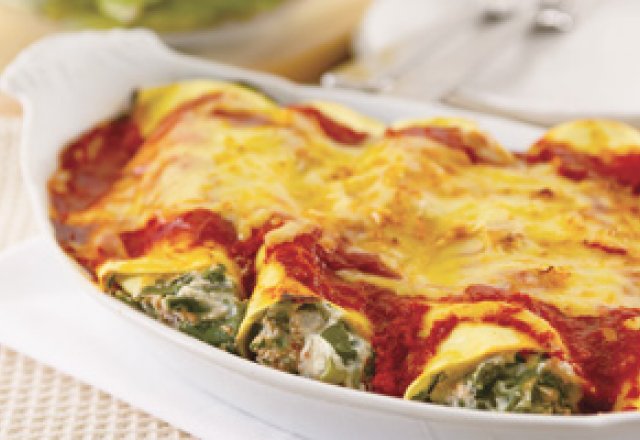 Healthy recipes for the whole family
This recipe is gluten-free, rich in calcium and vegetarian.
Ingredients
8 gluten-free lasagne sheets

400g reduced-fat ricotta cheese

½ cup Vitasoy Soy Milky Lite

2 spring onions, chopped

1 tbs chopped fresh oregano or basil

tbs chopped fresh parsley

150g spinach

2 cups napolitana tomato-based pasta sauce

½ cup grated low-fat cheese
Method
Cook lasagne sheets in a large saucepan of boiling water until tender; drain and lay out flat.
Combine ricotta cheese, Vitasoy Soy Milky Lite, spring onions, herbs and spinach in a bowl. Spoon two heaped tablespoons of ricotta mixture along the edge of each lasagne sheet and roll up to form a log.
Place about 1/3 of the napolitana sauce on the base of a shallow oven-proof dish, top with ricotta-filled pasta and cover with remaining napolitana sauce.
Sprinkle with grated low-fat cheese, cover with foil and bake at 180°C for 20 minutes.
Remove foil and bake for another 10-15 minutes until golden brown. Serve with a garden salad.
Nutritional information
Protein 25.0g Total Fat 11.3g Saturated Fat 6.6g Carbohydrate 39.0g Sugar 10.7g Sodium 761mg Calcium 537mg
Find out more about manageing gluten intolerance or browse healthy recipe ideas.
Recipe from Vitasoy.com.au
Rate This