Getting to know Magdalena Roze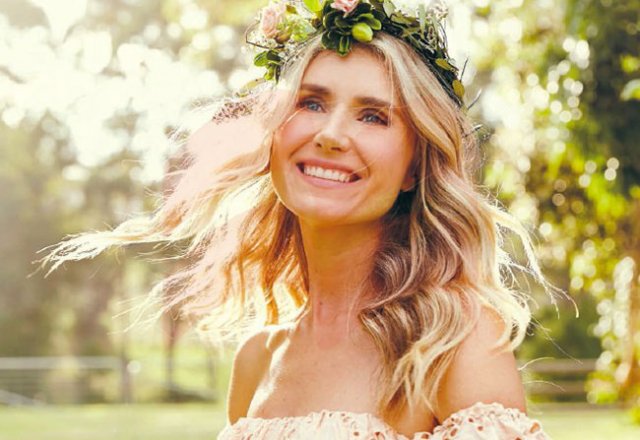 Our exclusive Q&A.
When Magdalena Roze, an award-winning meteorologist, was presented with the option of trading up the big smoke for the slow pace of Byron Bay, she grasped the opportunity with both hands. Roze chats to ANH about deepening her connection with food, prioritising wellness and her first book, Happy & Whole.
Growing up, what was your relationship with food like?
Food has always been a big part of my life and my memories around food are really happy. My parents are Polish and Russian, so I grew up eating a lot of very wholesome, home-cooked foods. I'm really grateful that my parents instilled in me a love of delicious, good food.
What's your food philosophy?
Eating real food, as close to its natural state as possible. Being surrounded by fertile farms and producers around Byron Bay, I'm so inspired by ethical food. For me, it's not about cutting anything out, but including as much deliciousness as I can – and that includes pasta, bread, wine, cheese and sweets. Slow fermented sourdough with cultured butter is so nourishing and sometimes a good old-fashioned cake is the only thing that will hit the spot on a rainy afternoon, so I enjoy these foods. I love vegan, vegetarian, gluten- and dairy-free dishes – and I feature many of these recipes in my book – but I equally enjoy ethically produced eggs, meat and dairy.
What inspired you to relocate to Byron Bay?
My partner, Darren, had the opportunity to open a restaurant on a farm with his team at Three Blue Ducks and it was too good to pass up.
Was it challenging to adjust to the slow Byron pace after working a frantic media job for many years?
I was used to working very long hours in television, attending events and travelling, so leaving all that to move to the country was a big shift. After a couple of months, I felt quite lonely and lacked purpose as my media career was all I'd ever known. But this gave me the chance to connect with my other passions for food, wellness and lifestyle, something that I may not have had the time or luxury to do in the city. This has organically lead me up another path and helped me to diversify my career, and I've never been happier.
What has the Byron lifestyle taught you about food, wellness and motherhood?
It's shown me that it's possible to slow down and lead a simpler, more natural life. While I've always been passionate about food and cooking, my sea change to Byron Bay allowed me the time to cook more and deepen my connection with food. The land is so fertile here and there are so many amazing producers committed to ethical farming that you can't help but be influenced by it. I'm so grateful to have access to such delicious and nourishing food, and to be able to put a face to virtually every bit of food that's on my plate. Byron Bay is a bit of mecca when it comes to health and alternative medicine, being healthy is the norm and a bit of a lifestyle, which rubs off even on city folk like me. There's so much wisdom in this area when it comes to health and I've learnt so much. I've tried to share some of the things in my book.
How has your career as a meteorologist influenced your seasonal food choices?
I love the weather and it has a major influence on our lifestyles, from what we wear, where we go, how we dress and what we eat. So I've divided my chapters by the weather – sunny, humid, cloudy and rainy – to give inspiration for the kind of food you'd want to eat in that weather. So, sunny is all about picnic food and salads; humid is seafood, tropical flavours and cold desserts; cloudy is the comforting foods like soups, stews and pastas; and rainy is about bunkering down, so recipes based on baking and preserving. I've included an extra chapter: sunrise for breakfast. It's not just a cookbook though; I've included chapters on wellness, motherhood and making things like tea and your own natural skin care – basically things that make you feel good!
Our central theme in the August-September issue is food as medicine. Do you believe that certain foods are medicinal? If so, why?
Absolutely. Vitamins and nutrients from quality food are highly bioavailable and, for common ailments, give us everything we need. Eating ethically grown, spray free, fresh food is not only one of the best ways to prevent sickness, but it's incredibly healing too.
In your book Happy & Whole, you state that living a wholesome life isn't just about the food we eat, but the other factors in our environment. How have you become more conscious of skin care and household products?
Wholefoods are just one part of nourishing yourself, what we put on our skin and into our home environment is just as important. I started making my own natural skin care when I was working in television because my skin wasn't coping with the heavy make-up and chemicals in the products I was using. I couldn't change the make-up but I went as natural as possible at home, and my skin literally improved in a day. I started to research this more when I fell pregnant and found that many of the toxins we use at home are unnecessary so I switched to easy, natural options which are more pleasant and safer for the family. I find that I now can't tolerate harsh perfumes and chemical smells like I used to.
What do you believe is the key to being happy and whole?
Nourishing yourself with the things that make you feel good. Keeping things simple, going back to basics and enjoying real, wholefoods is the start. Spending as much time as you can in nature and accepting that a part of being happy and whole is the down times. It's not about being perfect, but embracing imperfection and listening to our bodies so we can nourish ourselves in the best way possible.
NEXT: Try her macadamia & coconut-crumbed fish with rainbow slaw recipe here.
Rate This