Get glowing smoothie bowl recipe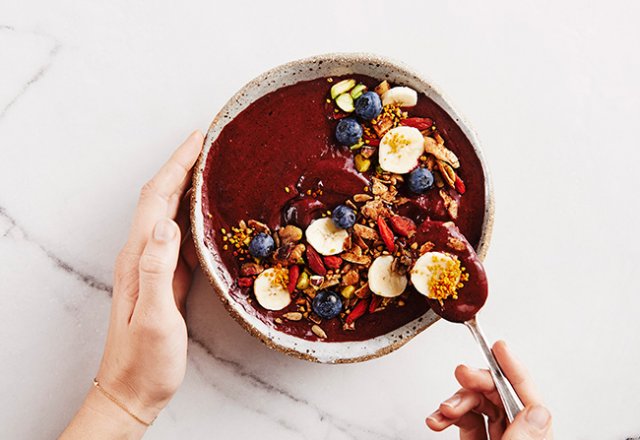 Gorgeous bowls that are almost too good to eat.
Skin and beauty expert, Carla Oates shares her delightful smoothie bowl packed with fibre, vitamins and antioxidants to keep your gut happy and skin radiant.
Ingredients
1 ¼ cup frozen blueberries
½ cup frozen unsweetened açai pulp, coarsely chopped
1 very ripe frozen banana, coarsely chopped
½ cup coconut kefir or natural yoghurt
2 tsp GLOW Inner Beauty Powder (optional)
¼ tsp ground cinnamon
2 tsp chia seeds
2 tsp cacao nibs
Topping
1 small ripe banana, peeled and sliced
6 to 10 fresh blueberries
2 tbsp granola
1 tbsp finely chopped pistachios
1 tbsp goji berries
1 tsp bee pollen (not suitable for those with bee allergies)
1 tsp hemp seeds (optional)
Method
To make the smoothie, blend the blueberries, açai, banana, kefir or yoghurt and GLOW powder, if using, cinnamon, chia seeds and cacao nibs in a high-speed blender, until smooth and creamy. Pour the smoothie into two wide shallow serving bowls.
Decorate with toppings.
Eat immediately.
Rate This