Garden to Gourmet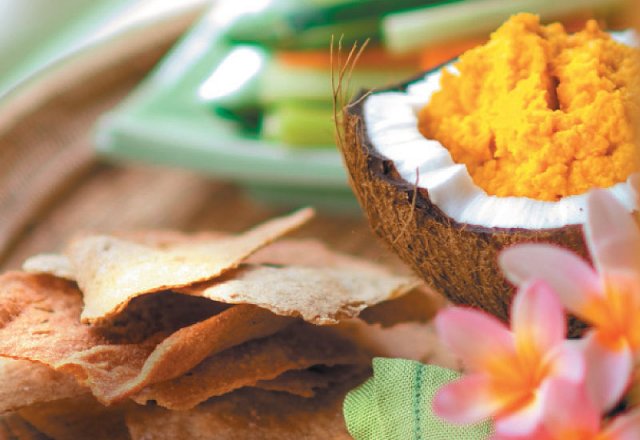 Indulge in these delicious and healthy recipes,
bought to you from the beautiful Gwinganna Lifestyle retreat, Queensland.
Spicy carrot dip
Makes: 20 portions
Ingredients
4 medium (400g) carrots, cut into chunky pieces

1 tsp each of ground cumin, coriander & medium curry powder

1½ cups (400g) chickpeas

Sea salt

10ml chickpea liquid

½ cup (50g) tahini

juice & zest of 1 medium orange
Method
Season carrot with spices and steam or bake until tender.
Soak and cook chickpeas in slightly salted water. Purée both in food processor with rest of ingredients, adding liquid as required.
Adjust seasoning to taste.
Corn & sweet potato cakes with avocado salsa
Serves 10
Ingredients
Corn & sweet potato cake
400g sweet potato, baked

& crushed

100g corn kernels, roasted

1 egg, beaten

¹/3 cup (50g) polenta

sea salt & pepper

pinch of nutmeg

3 sprigs chopped parsley
Avocado salsa
1 large avocado

3 tomatoes, flesh diced

Sea salt & pepper

Freshly chopped basil and coriander

Juice of 1-2 lemons

½ small red onion, diced
Method
Corn & sweet potato cake
Mix all ingredients together and shape into golf ball size patties.
Dust with polenta and bake at 170ºC on a tray for 6-8 minutes until golden.
Top with 1 tablespoon of salsa.
Avocado salsa
Mix ingredients together gently, serve immediately.
Seafood paella
Serves 6
Ingredients
1 medium onion, diced
2-3 cloves garlic, chopped
8 -10 threads saffron or 1 tbsp turmeric
1.5 litres vegetable stock
2½ cups (500g) brown rice
200g squid, cut into rings
300g firm fish chunks (ling, cod, tuna)
12 medium king prawns, tail on
18-24 (500g) fresh mussels
2 lemons, juice & some zest
2 tbsps (50ml) olive oil
1 medium (100g) green capsicum, diced
2 (100g) tomatoes, diced
1 medium (100g) zucchini, sliced
½ (100g) eggplant, diced
100g green beans
1tbsp each sea salt & pepper
½ cup parsley, chopped
Method
Sauté onions, garlic and saffron or turmeric in some vegetable stock.
Add rice and remaining stock and cook covered on low heat (absorption method) until most of the liquid is absorbed.
Marinate the seafood in lemon juice, garlic and oil.
Cook seafood and vegetables separately in a hot pan or wok for 2-3 minutes.
Add to the rice with all the juices and mix well, leaving for a few minutes for flavors to saturate the rice.
Check seasoning and sprinkle with parsley.
Garnish with extra lemon wedges.
Add the cooked fish last, folding gently through the rice to avoid breaking.
Tip:
Only serve mussels that have opened!
Raw date & almond slice
Makes: 20 squares
Ingredients
1 cup almonds, soaked overnight, discard water

2 cups dates, soaked for a couple of hours (1 cup for topping)

1 cup filtered water

½ cup carob powder

2 cups coconut meat or desiccated coconut
Method
Place the soaked almonds, 1 cup of dates, filtered water and carob into a food processor and blend until smooth.
Mix in the coconut, then press the mix into a biscuit tray, to about 1 inch thickness.
Leave covered in the fridge for 2-3 hours to firm up.
For topping
Process the second cup of dates in blender with a little water until smooth like a 'cake icing'
Spread over the set mix.
Sprinkle with some coconut or other nuts of your choice.
Set aside in the fridge until smooth
Cut into small squares to serve.
Recipes from Gwinganna, Garden to Gourmet, rrp $59.95. Over 140 pages of well-being advice and organic recipes, sourced directly from the menus at Gwinganna. Beautifully photographed, the book is a valuable guide toward optimal wellness. www.gwinganna.com.au
Rate This