Fruity-nut cottage cheese with raspberry sauce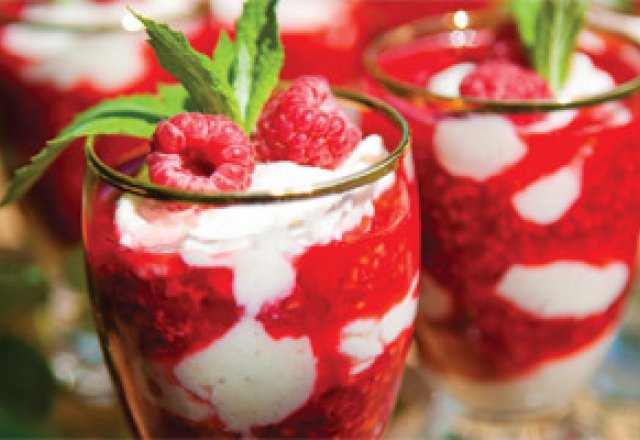 Healthy dessert ideas
Utilise nature's sweetness with some tasty treats
Swap this…
The high amount of sugar in cakes, sweet biscuits, chocolate and confectionery can lead to insulin resistance, obesity, dental cavities and hyperactivity, not to mention candida, acne, addiction and further cravings.

For this…
Utilise nature's sweetness with some tasty treats, still balanced in carbohydrates, fats and protein. Dessert doesn't have to be just sugar and fat – fill up on the good stuff!
Fruity-nut cottage cheese with raspberry sauce
½ cup low-fat cottage cheese
2 handfuls blueberries, diced cantaloupe, peaches, pineapple
½ palmful macadamia nuts
1. Mix all ingredients above in blender or food processor
2. Blend raspberries & drizzle over as a sauce
3. Sprinkle with cinnamon

Coconut rice pudding with grilled oranges (serves 4)
1 cup rinsed quinoa
400 ml coconut milk
½ tsp grated nutmeg
1 tsp stevia
Pinch of salt
Sprinkle of cinnamon
2 sliced oranges – skin and pith removed

1. Cover quinoa in 2 cups of water and bring to boil. Leave to simmer until water has absorbed.
2. Add quinoa, coconut milk, nutmeg, salt and stevia to a pan and cook over gentle heat until mixture begins to simmer.
3. Simmer and stir for 5 minutes until thick and creamy.
4. Spoon quinoa into cups lightly oiled with coconut oil and leave to cool.
5. Grill orange slices on BBQ, using foil, until lightly golden.
6. Once quinoa is cooled, run a knife around the edge of the cup and turn out quinoa onto a serving plate.
7. Decorate with orange slices and serve sprinkled with nutmeg and cinnamon.
Browse more summer recipes or connect with us on Facebook.
Rate This