Frozen Christmas nougat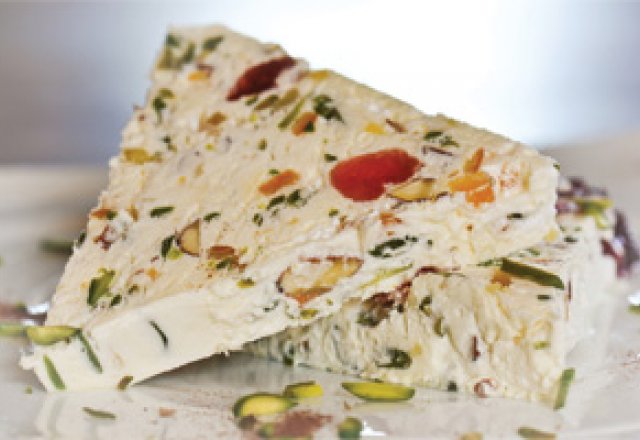 Dazzle your dinner guests
If you want to make this dessert more festive, replace nuts and dried fruits with crumbled Christmas pudding.
Ingredients (10 serves)
150 grams dried fruit (apricots, sultanas, figs) or fresh berries
40ml Cointreau or Grand Marnier
120 grams mixed nuts such as pistachios, hazelnuts, walnuts 
or almonds
100 grams honey
2 egg whites
375 grams cream

Method
Place a loaf mould into the freezer.
Chop the dried fruit (if you use berries leave them whole) and mix the fruit with the liqueur.
Chop the nuts roughly.
Place the honey into a saucepan and bring to the boil. Heat to 120°C

Whisk the egg whites in a kitchen mixer and slowly pour in the boiling hot honey. Whisk for a few minutes until the mix is very firm.

Whisk the cream to soft peaks and mix the nuts, fruit and cream into the egg white mix, transfer into the chilled mould and freeze until set.

Rinse the cake tin under cold water and let the ice cream drop out onto a clean chopping board. Slice into finger thick slices and serve with a compote of summer berries.

Note: Running out of time? You can make the nougat up to a week in advance and store in your freezer.
Recipe from Trupps' Whole Food Kitchen.
Browse more delicious recipes or join the chatter on Facebook!
Rate This