Cherry and almond flan cake with cinnamon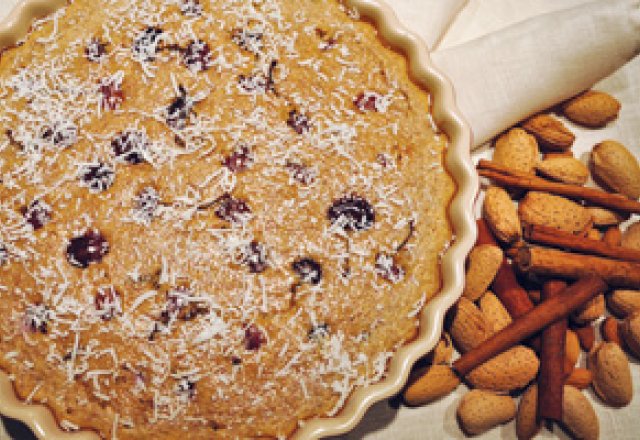 Serve with stewed fruits or whipped cream
This very simple and quick cake can be made with any seasonal fruit like figs, apricots, plums, peaches or berries
Ingredients
250 mls organic full cream milk (un-homogenized)
1 full teaspoon cinnamon powder
3 large eggs
1-2 tablespoon of honey
25 grams wholemeal flour (use quinoa or buckwheat flour if gluten intolerant)
25 grams butter
120 grams almonds ground to a fine powder
Butter to grease the mould
250 grams cherries, best quality
Little honey to sprinkle over the cake
Method
Heat your oven to 180 degrees (160 in a fan forced oven).
In a saucepan bring the milk, butter and cinnamon to the boil.
With a whisk stir in the flour into it, boil for 20 seconds and take off the heat.
In a bowl, mix the eggs with the honey and almond powder then add it to the milk and whisk well.
Grease the mould with the soft butter, pour in the cake batter and sprinkle the cherries over.
Bake in the oven for 30 minutes.
Remove and drizzle some honey over and serve.
Note: If available, you can sprinkle the cake with a little desiccated coconut.
Recipe courtesy of weightitup.com.au
Next: Make this lemon meringue pie or rich chocolate squares.
Rate This