Faux-rerro rocher hazelnut bliss ball recipe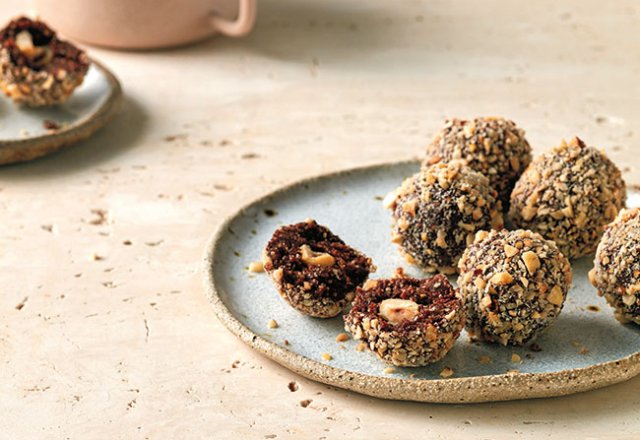 Bite size deliciousness.
This easy bliss ball recipe is the perfect bite size treat without the guilt - they're vegan-friendly too.
Ingredients (makes 14)
FOR THE FILLING
150g hazelnuts
9 medjool dates (about 180g), pitted
30g (1¼ cup) raw cacao powder
40g hazelnut or almond butter
14 hazelnuts, roasted and peeled
FOR THE COATING
50g vegan cacao butter
1½ tbsps raw cacao powder
1 tbsp maple syrup
75 g (½ cup) roasted, peeled hazelnuts, crushed
Method
Place all the filling ingredients, except the 14 roasted hazelnuts, in your food processor or blender and pulse together until combined.
Line a tray with baking paper. Take about 1 tbsp of the mixture at a time and roll it into 2.5 cm (1 in) balls, pushing a roasted hazelnut into the centre of each ball. Place the balls on the tray.
Meanwhile, to make the coating, melt the cacao butter in a double boiler set over simmering water. Add the raw cacao powder and maple syrup and whisk everything together until combined and smooth. Cool the mixture.
Dip the balls into the chocolate mixture, place them on the tray and set aside until the chocolate has set. Repeat the process 2–3 times or until the balls have a thick coating. Before the final coating sets, roll each ball in the crushed hazelnuts to lightly coat, then return to the tray. Refrigerate for around 10 minutes or until the chocolate has set firmly.
Transfer the balls to an airtight container and refrigerate or freeze. These will keep for up to 2 weeks in the fridge, and a couple of months in the freezer.
TIP
You can use 2½ tbsp of coconut oil in the coating instead of the cacao butter. Even easier, you can replace the whole lot with 100g cooled, melted raw dark chocolate and use this to coat the balls instead of the mixture above. Roll them in the hazelnuts, as per the recipe.
This recipe was taken from Bliss Bites by Kate Bradley, with photography by Elisa Watson, published by Hardie Grant Books. (RRP $19.99) and is available in stores nationally.
Rate This