Farro and three mushroom ragout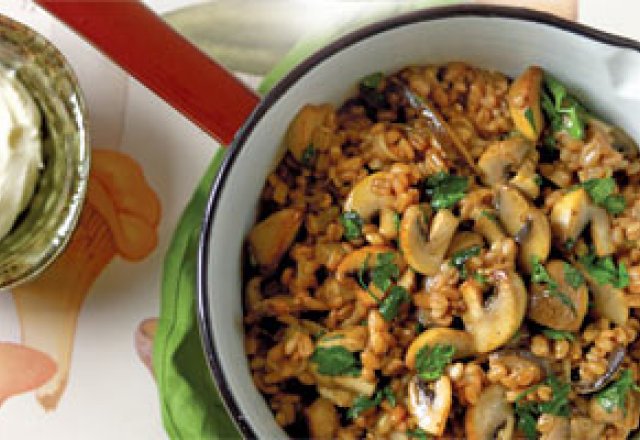 Boost your fibre intake with this yummy farro and mushroom ragout
For a delicious and nutritious recipe, look no further than Tony Chiodo's Farra and three mushroom ragout
Ingredients
½ cup dried shiitake mushrooms, soaked overnight in 2½ cups water

½ cup dried porcini mushrooms, soaked overnight in 2½ cups water

2 tablespoons olive oil

2 garlic cloves, finely sliced

5 sage leaves

1 onion, finely sliced

Sea salt

2 celery stalks, diced

2 cups farro, soaked overnight with enough water to cover, drained

½ cup dry white wine

8 button mushrooms, cut into quarters

2 tablespoons finely chopped flat-leaf parsley

¼ - ½ cup sour cream or mascarpone

½ teaspoon freshly ground black pepper
Method
Drain the shiitake and porcini mushrooms, keeping the soaking liquid. Remove the woody stems and finely slice the caps; set aside.
Heat half the oil in a large saucepan over medium heat and sauté the garlic for 2 minutes. Add the sage and sauté for 2-3 minutes, until the leaves change colour, then add the onion and a pinch of sea salt and sauté for 5 minutes. Add the celery, sliced dried mushrooms, farro and wine to the pan and sauté for 3-5 minutes, or until the wine has almost evaporated. Add the 5 cups of mushroom soaking liquid with 1 teaspoon sea salt. Bring to the boil, then reduce the heat, cover and simmer for 30 minutes, or until the farro is tender. You can allow any excess liquid to evaporate by leaving the lid off once cooked.
Heat the remaining oil in a frying pan over high heat and sauté the button mushrooms for 3 minutes, or until golden brown. Add the parsley and combine before folding the mushroom mixture through the cooked farro. Add a good dollop of sour cream and the freshly ground black pepper before serving warm.
Browse more recipes online. Discover the benefit cooking with grains can have on your health. Follow us on Facebook and Twitter for more recipes and the latest health news.

This extract is taken from Feel Good Food by Tony Chiodo, $45, Hardie Grant Books.
Rate This