Taline Gabrielian's lentil nourish platter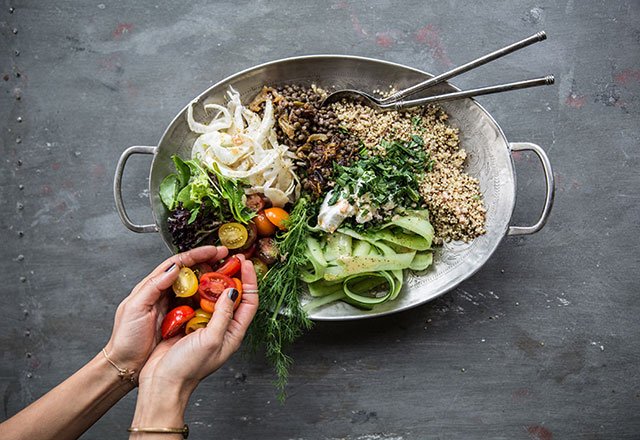 Wholesome feel-good food.
We can't get enough of Taline's delicious lentil nourish platter, filled with hearty, delicious and healthy ingredients. Find the recipe below.
Ingredients (serves 4)
1 cup dried green lentils, soaked for 8–10 hours
1 ½ tsp ground cumin
½ tsp hot paprika
½ tsp Himalayan salt, or to taste
¼ tsp freshly cracked black pepper
1 cup quinoa, rinsed
1 ½ cups vegetable stock
1–2 tbsp olive oil
1 large brown onion, thinly sliced
2 Lebanese (short) cucumbers, cut into ribbons using a mandoline or vegetable peeler
1 fennel bulb, thinly sliced
1 cup cherry tomatoes, halved
1 cup mixed salad leaves
handful dill sprigs
½ cup finely chopped mint
½ cup finely chopped flat-leaf parsley
1 generous tbsp vegan nut-free garlic dip
For the dressing
¼ cup extra-virgin olive oil
juice of 1 lemon
1 garlic clove, crushed
½–1 tsp sumac
¼ tsp Himalayan salt
⅛ tsp freshly cracked black pepper
Method
Rinse the lentils and place in a saucepan with 2 cups water. Bring to the boil. Stir in the cumin, paprika, salt and pepper, then reduce the heat, cover and simmer for 10–25 minutes, or until the lentils are just tender.
Meanwhile, place the quinoa and stock in a saucepan and bring to the boil. Cover with lid and simmer for 10 minutes, or until cooked.
Heat the olive oil in a frying pan over medium heat. Add the onion and cook, stirring often, for about 5 minutes. Reduce the heat to low and cook for a further 5 minutes, or until the onion is caramelised, stirring regularly so it doesn't burn. Remove from the heat.
In a small bowl, combine the dressing ingredients.
Arrange the quinoa, lentils and caramelised onion in small mounds on a platter. Add the cucumber, fennel, tomatoes and mixed leaves. Top with the dill, mint and parsley. Drizzle with the dressing and serve immediately, with the garlic dip.
NEXT: Looking for more wholesome recipes? Head to our food section for a delicious collection.
Rate This