Lentil and mushroom filo triangles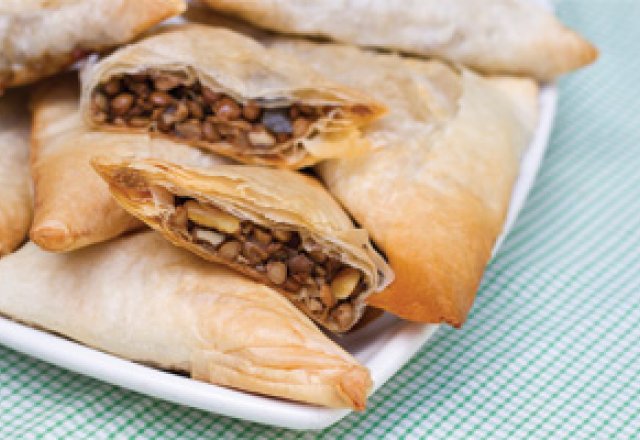 Serve with your favourite chutney and a side of fresh salad
These are fun to make with friends and family as folding the triangles does take some time.
Ingredients (makes 24):
1 packet filo pastry (20 sheets)
Melted butter, to brush pastry
1 ½ cups dried brown lentils (or 2 x 400 g can brown lentils
Olive oil or butter
4 cloves garlic, minced
250 gm mushrooms, finely sliced (approx. 20 button mushrooms)
¼ cup balsamic vinegar
4 tbsp water
2 tbsp good quality dried vegetable stock
4 tbsp pine nuts,
lightly toasted
1/2 cup chopped fresh garden herbs (basil, spring onion, parsley, thyme)
Optional: handful of crumbled feta, ricotta or tofu
Method
1. Preheat oven to 180°C.
2. Rinse dried brown lentils and place in a pot of boiling water. Once water returns to the boil reduce heat and simmer until tender for approx. 30-40 minutes. To speed up cooking time, soak lentils overnight.
3. Heat olive oil or butter in a large pan, add garlic and cook for 2 minutes, add mushrooms and cook for a further 4-6 minutes until they begin to brown, add Balsamic vinegar, lentils, vegetable stock and water and stir to combine. Reduce heat, cover and simmer for a further 5-10 minutes until lentils have softened. Remove from heat, add chopped fresh herbs and cheese or tofu (if using) and set aside.
To prepare filo
On a clean, hard surface lay out a sheet of filo pastry, brush with melted butter and top with another sheet. Repeat this process until you have 3 sheets in total. Using a pizza cutter or sharp knife, cut pastry lengthways into 6 strips. Place a spoonful of filling onto the bottom of one section. Fold pastry over mixture so it is encased in a triangle. Keep folding over the length of pastry. To seal triangle brush leftover end of pastry with a little melted butter and fold. Repeat this process until mixture is used up.
Place triangles on a greased baking tray, and brush with melted butter. Bake for 20-25 minutes or until golden.
Tips for legumes:
Inspect dried legumes before soaking and remove any debris.
To prevent 'legume gas' and reduce cooking time, soak legumes for up to eight hours. Discard the water after soaking and boil legumes in a large pot with plenty of fresh water.
Avoid combining new and old legumes and/or with different varieties. They will cook unevenly.
Store in airtight containers to avoid pantry moths. They should keep up to a year.
Next: Parsnip, Potato and Green Split Pea Soup (a winter warming soup packed with protein-high legume goodness!)
Don't forget to connect with us on Twitter and Facebook!
Photo credit: Jessica Symonds
Rate This