Corn tamales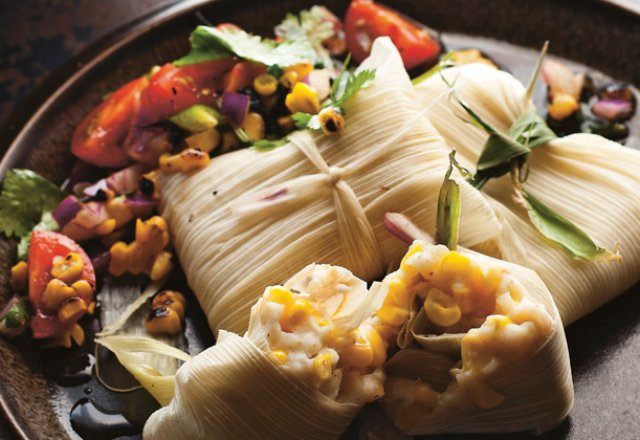 Explore the flavours of Latin America
Celebrity Chef, Simon Bryant, explores the flavours of Latin America with this meat-free Mexican dish.
Ingredients (makes 12 parcels)
3 corn cobs, husks stripped and reserved
100 gm grated cheddar or crumbled feta
1 cup (180 gm) masa lista
2 tbsp vegetable oil
3 tbsp extra virgin olive oil
1 red onion, diced
500 gm cherry tomatoes, quartered
1 bunch coriander, leaves and stems chopped
2 limes, juiced
1 lime zest, grated
1 long, green chilli, seeded and 
finely chopped
Small pinch of sweet paprika
Salt flakes and cracked pepper, to taste
I set aside a few husks to dry every time I use a cob, then chuck them in a 50°C fan-forced (70°C conventional) oven for a few hours and store the dried husks in an airtight container until I get a tamale craving. This way I can still make tamales when corn is long gone and just season the masa with different vegies. Alternatively, you can buy pre-dried husks from Mexican grocers, where you'll also find masa lista.
Method
Strip the corn kernels from two of the cobs by snapping them in half and running your knife down the cob. Lightly crush the kernels with a rolling pin or potato masher, then mix together with the cheese, masa lista and three cups (750 ml) of water – the mixture should be like stiff, mashed potato. Season with a big pinch of salt and pepper. Place it in a small heavy-based saucepan over very low heat and cook for 10 minutes, stirring constantly, to create a soft dough. It should be fairly dry but not crumbly.
Lightly oil a fresh corn husk with the vegetable oil. (If you're using dried husks, rehydrate them first in warm water and pat dry before oiling.)
Spread a heaped tablespoon of the masa mixture over the thick end of the husk, and wrap it up into a matchbox-sized parcel. Place another oiled husk perpendicular to the first one and wrap it up again to seal the sides. Tie the parcel with a fine strip of husk. Repeat with the remaining mixture and husks to make 12 tamales.
Place a large tiered steamer over a large saucepan of simmering water. Place the tamales in the steamer, then cover and steam for 20 to 25 minutes. Remove the steamer from the pan. Allow the tamales to sit for five to 10 minutes to finish steaming and to cool a fraction.
Meanwhile, blacken the remaining corn cob on a dry char-grill plate or pan, over high heat. Turn the cob regularly, as it will go from blackened to completely burnt very quickly. You just need to achieve a smoky flavour and create a few black contact spots on the kernels. Leave the corn cob to cool slightly, then strip the kernels with a knife. Place them in a bowl along with the remaining ingredients and a pinch of salt. Combine to make a salsa.
Arrange three tamales on each plate with the salsa alongside.
Rate This