Mexican Birria with tortillas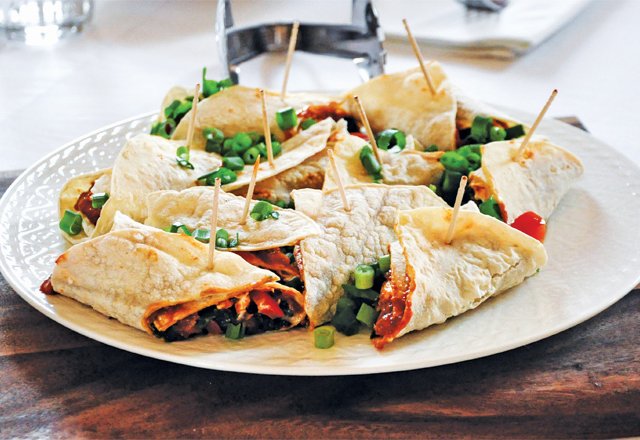 Dorota and Walter Trupp share a heart-warming Mexican recipe.
Ingredients (serves 6)
10 dried chillies such as guajillo, pasilla, chipotle, ancho or New Mexico*
3 garlic cloves, chopped
1 tbsp dried oregano
1 large onion, chopped
½ tsp ground cinnamon
2 tbsp ghee or coconut oil
1 kg boneless free-range goat shoulder, cut into 1 cm pieces (use lamb or pork as replacement)
1 bay leaf
⅓ cup red wine vinegar
1 cup coriander leaves, chopped
1 large red onion, finely chopped
Warmed corn tortillas and lime wedges, to serve
1 cup of sour cream, to serve
*Get those chillies from South American grocers or nationwide online (Herbie's Spices)
Method
To make chilli paste, remove and discard stems and seeds from chillies. Roughly tear into pieces, then place in a bowl and cover with boiling water. Set aside to soak for 20 minutes, then drain, reserving one tablespoon of water.
Process chillies, garlic, oregano, onion, cinnamon and reserved soaking water in a food processor until smooth, and set aside.
Heat ghee in a large saucepan over high heat. Season goat well with salt, then cook in two batches, stirring occasionally for five minutes, or until browned.
Remove with a slotted spoon and transfer to a plate.
Return pan over medium heat, add chilli paste and cook for 30 seconds or until fragrant. Return goat to pan with bay leaf, vinegar, sugar and 500 ml water.
Bring to the boil, then reduce heat to low and cook covered, for one hour. Then cook uncovered for a further hour or until goat is tender.
Transfer to a bowl, reserving 125 ml of the cooking liquid.
When goat is cool enough to handle, shred the meat and toss through reserved cooking liquid.
Combine coriander and onion in a bowl.
Serve goat with coriander salad, sour cream, tortillas and lime wedges.
NEXT: Corn tamales recipe>>
Photo credit: Trupp Cooking School
Rate This